Bronze, Silver and Gold
TMJ Interiors are a bespoke Joinery manufacture based in rural Suffolk. We employee 130 staff and have a small fleet of 3 vehicles over 3.5 ton and a grey fleet of 10. Teresa Keeble, Safety Manager tells their story. Since joining FORS we have achieved many things, but for me the biggest achievements are increased Driver awareness and their buy in, to the training, new policies and procedures that we have implemented.
In June 2013, one of our Main Contractors wrote to us, stating that we needed to be FORS Bronze by the end of July, otherwise all of our deliveries would be turned away from site! This is the first we had heard of FORS. So after reviewing the FORS website (which is very useful) and attending the 'going for Bronze' workshop, we realised what excellent business sense it made to engage and sign up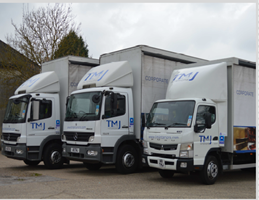 Preparing for the audit made us focus on the areas our significant shortfalls. Fleetsource helped us with this by ensuring that we had all the correct policies and procedures and aligned these with the existing documents we already had in place. We passed our Bronze accreditation at the first attempt, with no comments or observations, which was an excellent achievement for us.
Our next target after achieving Bronze was to achieve Silver as soon as we could. Using the knowledge and contacts gained from the practitioner workshops, we set about using all the benefits that comes with being FORS accredited, such as putting our drivers on the Safe Urban Driving CPC, improving vehicle equipment and carrying out licence checks via Advance check.
"Completing the SUD CPC proved far more beneficial than I thought it would"
TMJ Driver
After attending the FORS Practitioner workshops, we gained so much information that we just didn't know before. The biggest benefit for us as a business, was understanding PCN's and why there are issued and what to do with them! We had never challenged them or even asked why these occurred in the first place, we just paid everything. As you will see from our section 6 figures we have achieved an outstanding improvement in this area. This wouldn't have been possible without the knowledge gained from the workshop which allowed us to educate our drivers and staff.
Attending the FORS Practitioner Workshops, especially Workshop 8 and 9, allowed us to set KPI's. These include: Carrying out 1 TBT per month, which helps educate and update the drivers on all transport and environmental issues.
"Achieving Gold would show all our competitors that we are an exceptional operator"
J Taylor MD
This also allows us to monitor their behaviour after the TBT has been carried out to look for improvements. In the transport office we display a chart of all the infringements each driver has received over the last 6 months. This generates healthy competition between them, but has the benefit of reducing infringements at the same time.
| | | | |
| --- | --- | --- | --- |
|   | Expired Licences | Incorrect Addresses | Value |
| Jan - Dec 2012 | 19 | 19 | £1240.00 |
| Jan - Dec 2013 | 10 | 6 | £380.00 |
| Percentage improvement | 47% | 68% | 70% |
Becoming FORS Gold would be an excellent achievement for a business such as ours and allow us to continue working with the large construction companies such as Mace and ISG who require FORS to deliver to their projects. Achieving Gold would exceed their target of Silver, showing that TMJ takes Work Related Road Risk seriously.
Considering that there are so few Gold SME companies, being able to say 'we are Gold' would set the benchmark for other companies within our sector to try to follow in our footsteps.
Our biggest goal going forward would be to win the ROSPA MoRR Transport Award for the achievements and improvements we made over the last year.