For over 25 years the Toureen Group has been solving complex construction problems for a diverse range of clients, our team of expert's combines experience and technical knowledge to deliver the most effective solutions for large scale projects. We have been operating our plant movements from our site in Watford since 2010. Mark Weller still holds the operator's licence for Toureen but we have also recruited Jason Francis who started in July 2017 Jason is a CPC holder in both national and international and has 20 years' experience in the transport and warehouse industry this gives us additional strength to manage our fleet.
Mark, Jason and the team are passionate about the FORS scheme which aligns very closely to Toureen's Safety ethos. FORS is also helping to add significant value to the business through its many aspects such as fuel monitoring techniques to further enhance efficiencies and safety related awareness raising, especially for our drivers FORS has ensured we are continually working to a high standard by providing the best practice advice through regular industry updates, nationally and locally.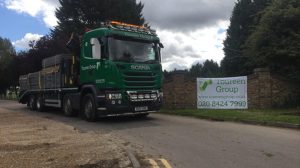 We came across FORS originally as a contractual condition. But soon realised it would benefit us by introducing a more structured Transport system to continually improve on the systems already in place.
Mark Weller confirms that since the company first achieved the Bronze accreditation in 2014 the transport team have further strengthened the systems to support transport operations perform through proactively across the business to insure the workforce including directors continue to support the Standard. We have since achieved FORS Gold which has given the transport Department recognition amongst the senior stakeholders which has motivated them and the business to relentlessly maintain our high standards.
The accreditation has helped the business grow year on year with some very significant contract wins and some very high profile contracts gained this year, many of these projects have stipulated FORS Accredited contractors in the tendering process and across the industry there has been an increase in awareness and expectation for the highly regarded ethos. It has also brought credibility and differentiated the business from competitors in a much cluttered market. FORS is communicated through all marketing promotional assets and in tendering documentation.
Since joining FORS we have gained some high profile projects within London – Denis Nolan, MD
FORS is now introduced at the induction stage of all new employees who will be driving company vehicles. They carry out their first E learning module at this stage and this introduces them to FORS and shows the commitment the company has to keeping the FORS Accreditations and its high standards in driver safety and training from day one.
Our drivers have benefited from the FORS workshops and the high standard of training that is offered to FORS accredited companies. – Mark Weller, Transport Manager 
We have made the progression from Bronze to Gold to make sure we are continually progressing and strengthening the transport department making it as efficient and safe as possible with the latest training and safety alerts from FORS.  This is then reflected in the tendering process for new business and our customers are confident in the knowledge that we run a safe and efficient transport department reflected in our FORS Accreditations
| | | | |
| --- | --- | --- | --- |
| | MPG | Incidents | Number of PCNs |
| Jan-Dec 2015 | 7.5 | 4 | 2 |
| Jan-Dec 2016 | 7.7 | 11 (with increase in fleet size) | 3 |
| Percentage improvement | 0.5 | 0% (due to increase in fleet size this has not improved) | 0% (due to increase in fleet size this has not improved) |
All high-risk drivers are sent on an annual medical.
We do not use any recruitment agency's we generally recruit drivers through word of mouth and on recommendations
It is important to us as a company to reduce noise pollution and there are many things we do for example our HGV vehicles are fitted with white noise reverse bleepers which can be switched off by the drivers during restricted hours only when a traffic marshal or banksman is in place. A decibel meter available when loading or unloading to make sure the threshold level is not excided, a separate area for washing the vehicles to contain any noise and we use approved routes through London agreed with TFL and the Metropolitan Police.
We have started using two places in London, Park Royal transfer station and FCC environmental that transfer muck away by rail
We are continually investing in our Fleet to keep it as new and up to date as possible with the latest in cab technology to aid drivers in their daily roles. We try and keep our vehicles as  environmentally friendly as possible and we will be looking in the near future at the possibility of investing in Electric vehicles to be used mainly on our jobs in the London area.
Continuing our Gold accreditation helps show our workforce and our customers that we are committed to continually updating our Transport department and keeping our drivers up to date with the latest training and safety initiatives to benefit both us and our customers, are goals going forward are to continue the high standards that come with the Gold accreditation and keep improving year on year.
LinkedIn: https://www.linkedin.com/company/9353454/
Facebook: https://www.facebook.com/toureengroup/
Twitter: https://twitter.com/toureengroup?lang=en
Please note: All published FORS Gold case studies have been submitted by the accredited company named above and transcribed verbatim