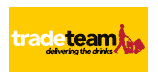 Our drivers are professionals. We want to give them as much training as we can to help them improve.
Driver training and development is a priority at Tradeteam, the UK's leading drinks distributor. John Crosk, the company's Operations Manager, tells us more about their approach and the benefits they're seeing from the FORS London Freight Booster training programme.
Aims and objectives
"We deliver on behalf of a number of high-profile brewing companies and we want to be our customers' preferred supplier," says John Crosk, from his base at Tradeteam's south east regional distribution centre in Enfield.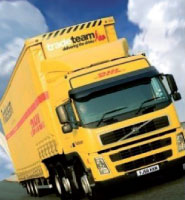 "You can't do that without investing in your people, so we think training is really important here." The specialist nature of Tradeteam's work means drivers need a specific set of skills and the company ensures each driver completes a two-week course before going out on the road. "Safety is paramount for us and, as well as the formal induction, they're taken through other areas including customer service and the manual handling aspect of the job," John says.
"On any given day, they could have 10 different drops with 10 different types of cellar so it's essential the drivers know how to approach it, particularly from a health and safety perspective."
Ongoing development
"When people come into this industry, they tend to stay," John says. "It's hard work and pulling nine tonnes of beer takes a bit of getting used to, but the people who get through the first few months often love the job. So we see it as an ongoing thing."
"Our drivers are professionals," he continues. "They want to improve and we want to give them as much training as possible to help them. It's not a case of 'You're trained, you're out on the road, you're experienced.' It's more that they're ready for the road when they've been trained and then we'll look at them again to make sure they're still doing things the right way."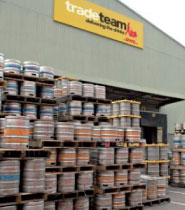 "We have a rolling training programme with in-house trainers. As well as regular sessions where we'll go through things like parking regulations and cyclist safety, the trainers also go out with the crews to audit their behaviour, right down to looking at how they exit the cab."
Drivers are also assessed individually on a regular basis. "It means they can work on particular improvements, like fuel efficiency, while any bad habits they've picked up can also be worked on. It's all part of our culture to keep improving and I think its really important."
The policy is serving the company well, as their recent success at the Motor Transport awards confirms. "We won Haulier of the Year and the Customer Care award," John reveals.
"The crews that go out on the vehicles are obviously a key point of contact with the customer, so I think these awards show the value of the training we do. And they're testament to the way the guys themselves embrace it."
Building on the London Freight Booster
"We've had six drivers through the classroom part of the London Freight Booster course so far and they've been really enthusiastic," John says.
"They all want to learn a little bit more, progress to the next level and get their NVQ. It obviously helps with the Driver CPC coming in and we're looking to get the rest of the guys on to it in the next few months."
"A key thing for us is the recognition they get as a result. We do a lot of training but they don't get any formal qualification at the end of it. The beauty of the NVQ, for me, is that it's directly related to the job. They're being assessed doing their job and need to gather evidence to show they can do the different elements well.
"I think it helps them focus on what they need to do. And if they're doing it right, it means we're doing it right as an operation."