The Travis Perkins Group are the UK's largest Builders Merchant group with over 2000 locations and a fleet of over 4000 vehicles serving the construction industry. Ron Searle, Head of Group Transport Risk & Compliance, tells how his focus is on compliance and safety.
"It's been a few years since I've been to college but this case study shows how we have focused on the new road user element of our vulnerable road users. As one of the founder members of FORS (member 000007) we have used the principles to achieve reductions in fuel use and incidents".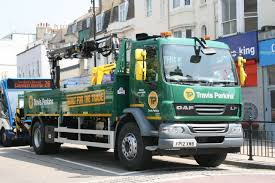 We joined FORS as a founder member, in 2007 and have progressed to and maintained our Gold standard thereafter. Whilst FORS is becoming the national standard, within the construction industry the focus by major tier 1 contractors is on both FORS & CLOCS. Our reporting systems have identified a trend of incidents involving new drivers, i.e. 17+ year olds in cars or on motorcycles. These are also by their very nature vulnerable road users. This lead us to look at how we can help educate new/vulnerable road users and heighten their understanding of the need to distance themselves from large vehicles in cities and even on major motorways".

Drive for Life at Rednock School – Thank-you!
"Dear Travis Perkins representatives, I would like to say a huge thank you to the students and staff at Rednock School, exhibitors, VIPs, all volunteers and presenters for making the Drive for Life event a success on Tuesday 15th March. From the ages of 17 onwards, driving becomes essential in the lives of young people whether they become drivers or primary passengers in their friend's vehicles. It is therefore essential that collectively, we all promote the message of safe and social driving to prospective, young adult drivers to ensure their safety and the safety of others throughout Gloucestershire."
Yours sincerely Martin Surl
Police and Crime Commissioner
"Working with a provider (3D) who have access to colleges and universities we used an ex-fleet tractor unit and fitted the vehicle with all the latest safety systems and aids that we would normally supply with all new trucks to aid driver and vulnerable road user safety. The truck is part of a program to visit over 160 one day road shows to help educate new drivers and those learning to drive along with other vulnerable road users in a changing places environment. The road shows are also supported by other selected partners":
Halfords: Helping educate new drivers in the importance of basic car maintenance.
Goodyear Tyres: Showing the importance of good tyre condition.
Emergency services:Attending to show first hand the work they do at any scene and to talk about the risks to new drivers.
"3D provide real life experience in a safe environment by driving an electric go kart while wearing "beer goggles" to simulate how a drivers vision is impaired as a result of drink driving".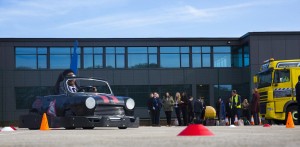 "The Wheels and Skills day gave all of Year 13 experience of the world of driving. Although some of us are not drivers yet this day educated us on almost everything we need to know when we do come to driving and owning a car for the first time.
 A lot of us didn't know what to expect from the day, but, I speak for the year by saying it was very informative and was extremely fun!'
Barr Beacon School
"The scheme is a practical session with young people being able to sit in the TP Safety Truck and have a drivers view.  Using a red zone around the truck we show the blind spot areas around a large vehicle. Whilst the program is in its first year we are expecting to see a reduction in incidents involving young drivers in our reporting".
"The program for us is one of education and the chance to exchange places with new drivers and those who may drive in the near future.  From the feedback we have had from both students and principles these life skills are both valuable and welcome".