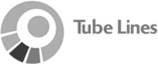 Tube Lines is a London-based wholly owned subsidiary of TFL responsible for, maintaining, renewing and upgrading the Jubilee, Northern and Piccadilly Line; with a substantial fleet of 1500 vehicles, and 44 haulage vehicles. Kevin King Haulage and Compliance Manager explains how FORS has spearheaded the implementation of initiatives to help improve the efficiency of operations within the company. Improvement in fuel utilisation and safety mechanisms on the vehicles are most evident through the FORS process. We want to lead from the front, acting as an example to all other London companies that FORS Gold is achievable.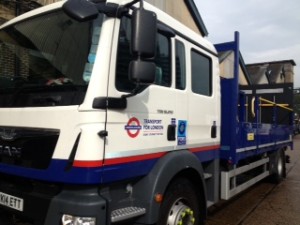 Tube Lines was a founder member in the original working group that put together the FORS accreditation programme in 2008 and was awarded Bronze status.
Tube lines achieved Gold status in October 2014 and has used this to monitor its own policies and standards using the FORS criteria as a guide.
All new trucks purchased have had all the latest driving aids fitted which have included four way cameras with all actions being recorded, tracking devices are fitted to help aid the transport planners and drivers.
This was achieved by having a strong strategy and dedicated team to drive this as a project, renewing and updating the policies and procedures as required. After achieving Gold status Tube Lines have continually reviewed all the requirements which were needed to achieve Gold, this meant analysing the data on fuel, fines and accidents, training the staff and reviewing best practice. By monitoring and investigating all these areas on a regular basis we were able to ensure our standards stayed at the high level that was required to achieving gold.
Over the past year Tube Lines has continued to train their drivers, completing the standard CPC courses, the Urban Cyclist course which continually makes them aware of cyclist's on the road, whilst continuing to do their mandatory training. All the staff have received driving assessments which has seen an improvement in their skills, knowledge and awareness and helped to reduce fuel consumption, accidents and fines.
We have continued to review and reduce Penalty Charge Notice's. All Tube Lines routes have files for each round, providing them with valid information about restricted parking areas. We are in the process of trailing a route scheduling package to allow any driver to cover the different routes and use this tool not only as a daily vehicle check device but also as a Sat Nav. However, if a fine is received, the process at Tube Lines requires the individual at fault to pay. The enforcement of this has led to an increased awareness from the drivers which have seen 36.9 % reduction in the number of PCNs. We also have a more proficient recording system since achieving silver and gold awards which has allowed us to monitor and take action; it allows us to filter out recurrent events, offenders and hotspots, whilst making drivers take more responsibility for their actions.
Tube Lines is ensuring all companies are FORS accredited through their procurement process and gate access checks. This data is being used and suppliers will be refused entry to TFL sites after a set period of time. This requirement has been built into every contract to ensure compliance. All new vehicles purchased must meet the latest FORS standards and is built into the specification to ensure compliance.