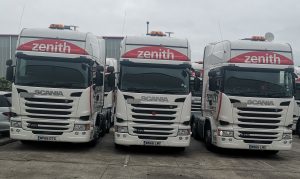 Uniserve Ltd formerly Zenith Logistics is based in South Kirkby. Paul Storey, General Manager, explains how Uniserve Ltd operations work.
We deliver glass food containers (beer bottles/coffee-pickle jars on a semi dedicated contract and general haulage as a backhaul. My name is Paul Storey and I am the General Manager, here Amy Beales looks after the companies FORS accreditation here is a simple walk through of our operation in line with FORS.
Uniserve Ltd have been looking at ways on how to reduce our carbon footprint and have invested heavily in fully electric company cars to reduce the CO2 of the management teams when going to meetings.
We currently have in place two very well trained driver assessor's in Chris Cowan and Andrew Gelsthorpe and a very experienced Transport Planning Manager's and planners in place.
The planner's will always look to make any route or journey that bit more economical. They do this by using planning tools that give him the most cost effective and shortest distance travelled. Along with the planning tool's we also have a very good tracking system in place that also emails certain members of our team an efficiency report, this is done on a weekly basis, this enables us to see the figures that matter with regards to CO2 emissions etc.
 We came across FORS when our then compliance manager suggested it would good practice to get involved with FORS. Being a member of FORS we realised we were missing out on "best practice". We also found about the FORS scheme through the logos that are situated on certified vehicles that travel around the UK. We looked up FORS and found it very interesting and wanted to show our commitment to being more environmentally friendly and working safer. While working closely with FORS we started training our drivers to be more aware of their surroundings with regards to the effects to they are having on the environment and the public. And the need for being more considerate to pedestrians, cyclists, and other road users. FORS encouraged us to put our vehicle checks online through our Fleetcheck maintenance program also and we have since also put all the FORS policies/procedures/toolbox talks on this system. In a FORS practitioner course we were discussing putting in a Major management incident procedure.
We have since put this into place.
Uniserve Ltd passed their initial audit first time round in January 2017 to be honest, the initial FORS audit was a bit of a wake up but it was a great opportunity to understand where we had gaps that needed to improve and put the pieces in place. What we found was really helpful the way the FORS standard is written, it tells you exactly what is required and what is needed to demonstrate the evidence.
Once we were Bronze, we decided that we should progress to Silver because at Bronze we were encouraged to make sure things were planned and carried out in time so that we didn't have gaps for the reapproval audit. We really made the most of the benefits on offer, in particular FORS training, such as Safe Urban Driving (SUD), the e- learning modules and toolbox talks. Also, we now use the tools that save time to collate information so that it is easy to recover when needed, such as the PCN Tracker and Performance Management Suite.
The General Manager Paul Storey (pictured to the right) and Compliance Manager has attended the FORS Practitioner courses.  Being FORS Accredited also emphasised the need to ensure that our policies and procedures were regular reviewed and updated.
So far, FORS has been extremely beneficial to us, and has been a key factor our continual improvement programme. Achieving our Silver and Gold award in 2019. Retaining our bronze in 2017 and 2018, represented a significant milestone in our safety and quality standards. This was a welcome endorsement and motivated us to improve further. The improved safety culture throughout our company, combined with the mandatory safety equipment fitted to vehicles, has led to a clear reduction in incidents. Following FORS guidance on incident reporting and post incident action, we have updated our process to include items such as, mandatory eyesight test and improved driver retraining for the individual and the rest of our team, in order to reduce the likelihood of incidents being repeated. This has also resulted in an improvement in our insurance premiums from year to year.
Through better monitoring of fuel data across the fleet, reduction of idle time, and introduction of newer & more fuel-efficient vehicles, we had achieved reduced CO2 emissions across the fleet. In a comparison between August 2017 and August 2018, we identified an improvement in CO2 output of 0.03 lbs per mile. These savings have encouraged us to investigate other opportunities to improve efficiency.
| | | | | | |
| --- | --- | --- | --- | --- | --- |
| | MPG | Incidents per 100,000 Kms | CO2 | Litres used | Number of PCNs |
| Apr 17 -Apr 18 | 9.3 | 0 | 1455.2738 | 562022.83 | 0 |
| Apr 18 – Apr 19 | 8.8 | 0 | 2755.4467 | 1064146.08 | 1 |
| Apr 19 – Apr 20 | 8.68 | 0.8 | 3980.6312 | 2874366.18 | 7 |
| Percentage improvement | -5.5% | -0.04% | -9% | -16% | -84% |
Although we haven't improved in 2018 compared to 2017 this is because we added 6 vehicles to our fleet. We have reduced empty running, so the vehicles are always fully loaded on the road. This is much better for the environment as by running full all the time we have potentially taken another truck off the road that would have completed the backload.
In 2019 however due to recent events (Covid 19) this has now been reduced to twenty LGV's.
Driver health and fitness review – In order to minimise the risk of incidents as a result of underlying health problems or diagnosis of condition we are introducing the following initiatives; Communicating to drivers the benefits of the healthy diet as well as general exercising. Reinforcing awareness to drivers of the repercussions to their continued appointment should they encounter any preventable condition through a lack of out of work physical activity This will be driven home through regular toolbox talks. Encouragement for regular health screening through individual's GP where we have identified any areas of concern affecting their driving role.
Strategy for recruiting drivers – Uniserve Ltd work with recruitment agencies and we advertise through Universal Jobmatch and Indeed (specifically targeting ex-military candidates) for HGV driver recruitment. We have a low turnover in staff and if recruiting we would screen each candidate for the position after an initial driving assessment. We would give comprehensive training to new people entering into this industry. Any new drivers would have to undergo training prior to commencing his/her role. Our assessors are now fully qualified instructors so we actively train class 2 to class 1 with a 98% pass rate.
Noise assessment – In order to reduce the risk to H&S from noise we have decide to take pro-active approach and hire a H&S experts and driver trainees to perform measurements of the noise levels due to the nature of our work.
Modal shift and alternative vehicles – we have you attempted to move part of our consignments from road to an alternative transport mode however due to the nature of our "JIT" service and delivery locations we have found this unachievable within the current fleet.
Continuing in maintaining our GOLD FORS our journey has improved the business, we will continue to improve our daily operations by keeping the standard of best practice.  Uniserve Ltd will continue monitoring Driver Fitness and Health, driver training and fuel management.
Continuing on the Gold accredited means that the business is dedicated to continual improvements and we are wholly dedicated to making the company the best it can be. We are extremely proud of the commitment that the whole company puts in. We have a dedicated team of staff that takes pride in our company and help the business in achieving FORS GOLD standard.
We have positively promoted FORS by adding the logo to all our trucks, email signatures, letter headed documents. We have persuaded several suppliers to investigate becoming FORS accredited. Two of our suppliers are considering this registering and becoming Bronze.
Gaining FORS Gold Accreditation shows how dedicated we are as a company to improving road safety and the safety of all vulnerable road users in London as well as nationally. We will continuously use what FORS has taught us to help reduce our carbon footprint and make the roads so safer for everyone that uses them. We have also managed to make a significant saving by reducing our fuel usage and improving our MPG.
We have a company website;  www.uniserve.co.uk
*Please note: All published FORS Gold case studies have been submitted by the accredited company named above and transcribed verbatim