Warton Freight Services is a family run business and has grown to be one of the capitals largest Haulage fleets. Since starting in London's East End in 1991 it has been Providing Lorry Loader hire, and Contract Lifting solutions as well as transportation to the Plant hire and construction industries. Steve Barclay managing Director of the business says, "I will be the first to admit that I was skeptical in the early days but I am now totally convinced that FORS is the way forward" as a company Warton Freight are all totally committed to upholding the standards laid out by FORS, we first learnt about FORS at the end of 2011 as we were doing a lot of work on the Crossrail project, it became obvious that we needed to step up to the mark and show our commitment to the changes being asked of the whole of the transport and logistics industry.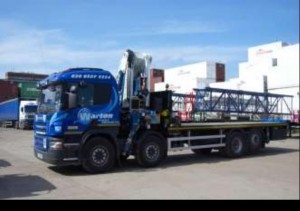 We wanted to use the FORS standards to demonstrate our continual improvement, we have done this and more with the help of FORS, the comprehensive Management System we had in place helped us to achieve the Bronze standard first time, Following on from the Bronze assessment we were keen to progress to Silver, we achieved this in march 2013, we have just passed our re-assessments for both Bronze and Silver, the FORS assessments have helped to identify areas where improvements to our existing systems can be made, the FORS benchmarking tool has enabled us to track our progress. "We have a Telematics system fitted to every vehicle which has helped us to plan our routes more efficiently, reducing idling time and utilising our fleet more efficiently. FORS has also helped us to better manage our driving licence checks by recommending Advanced Check, the FORS workshops have also been a great tool for our staff, and we have also put all of our drivers through the Safe Urban Driver Courses (SUDS).
Our vehicles are all fitted with additional features that exceed standard requirements, such as Side Scan Sensors, Turn Left warning systems, CCTV with 4 cameras and Fresnel lenses, we are totally committed to improving the safety of vulnerable road users, so much so that we are working with our safety equipment suppliers Britesparks who are FORS associate members to develop, produce and fit further safety equipment to our vehicles, these include LED warning signage and additional warnings alarms for turning right, all drivers have attended Crossrail driver training courses and we regularly keep our drivers updated through tool box talks, poster campaigns and memos.
Using the FORS bench marking system and the materials supplied by FORS, has helped us achieve a 4.9% increase in MPG from 9.5MPG to 9.9MPG overall, we have also reduced our CO2 emissions by 2.2% overall and incidents per 100,000km by 50%
| | | |
| --- | --- | --- |
| | MPG  | Incidents per 100,000 Kms |
| July 13 – July 14 | 9.5 | 0.10 |
| July 14 – July 15 | 9.9 | 0.05 |
| Percentage improvement | 4.9% |  50% |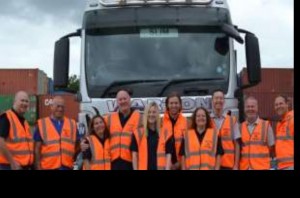 Achieving the Gold accreditation means so much to us; we have used the materials provided by FORS to continually improve our company, We are dedicated to making the company the best it can be and we are extremely proud of the commitment in all areas that everyone involved in the business has put in, we are always looking at new technologies to further improve our safety, Fuel consumption, carbon footprint etc. We are continually upgrading our fleet and fuel consumption figures and safety features come high on our list of priorities when choosing new vehicles, achieving FORS Gold will affirm what we have achieved so far, our aim is to continue making improvements in all areas of our business and be London's best Haulier.