Webster Miller Ltd operates a mix fleet of vehicles from under 3.5t van for towing through to 6 and 8 wheel rigid vehicles with lorry loaders, up to articulated vehicles.  The company is owned and managed daily by John Miller and Simon Steptoe (Directors), who work hard to maintain a high standard of service to their clients and strive to be the best in the business.  Webster Miller has been members of FORS since 2013 and has supported the scheme throughout this time.

"With the support of FORS and the excellent training programmes, we have been able to achieve a higher level of trained drivers and staff, cut costs through using the FORS support systems and information and always be one step ahead with the latest information". Simon Steptoe (Director)
Since 2013, we worked towards achieving Silver in 2014 and then Gold in 2015.  Every year since then, we have work to ensure Webster Miller Ltd vehicles have the most up to date equipment and the drivers are given the best training possible.  With the support of the FORS team our re-approval process has always been with ease, due to the excellent trainers, eLearning and the new spreadsheets available on line.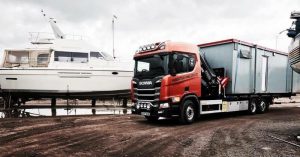 Over the last 12 months, we have been looking into our tyre and fuel management and fines and charges.  As FORS Gold members, we constantly monitor usage through recording all fuel, CO2, tyres, fines and driving styles via vehicle tracking systems.
Initially the driving styles were monitored, weekly dates have been issued to drivers as a league table showing speeding, harsh steering idling and breaking.
All staff completed the eLearning modules through FORS, both drivers and the management team have completed courses which not only gives knowledge to the drivers but also, we wanted them to be part of our business and understand the importance of being an environmentally responsible business.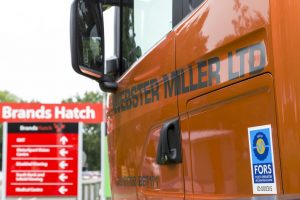 Tyre fleet checks are now being carried out weekly, to ensure tyres are turned, inflated and checked correctly which is proving to increase the life of the tyres.
Toolbox talks on fuel efficiency, speeding and fines have been delivered.  This information is aimed at drivers being aware of the speed limits on the inner-city roads, efficient route planning and reducing the risk of accidents.
| | | | |
| --- | --- | --- | --- |
| | MPG | Incidents per 100,000 Kms | Number of PCNs |
| Jan-Dec 2015 | 6.05 | 15 | 24 |
| Jan-Dec 2016 | 7.14 | 20 | 28 |
Our fleet has increased over the last year hence the raise in figures.
"We take care of our drivers, clients, public and the environment".  John Miller (Director)
Driver health and fitness reviews are carried out annually. As a company, we ensure all drivers are well and fit for work every day.  Our compliance manager Dave Jones, greets the drivers every morning, briefs them on the day ahead and is around to help with any issues that may occur whether it be work related or personal.
Recruiting drivers has always been hard. Being a specialist lifting company, drivers must have confidence and be able to give great customer service.  If we see potential, we will nurture and help staff progress.
Working with our clients and local authority, we understand the importance of lowing noise pollution. We are constantly improving and replacing our fleet for the newer quieter vehicles and work with the clients to ensure noise it kept to restricted times.
 No matter what the job or where we go, Webster Miller Ltd are proud to be part of the FORS scheme.
As we grow, we are happy in the knowledge that we are ahead of the game with the help received by the FORS team.
Please note: All published FORS Gold case studies have been submitted by the accredited company named above and transcribed verbatim.