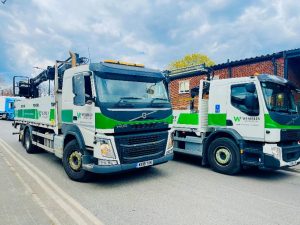 Section 1 – Introduction
Wembley Innovation is a privately-owned construction products company that sells the Wi System range of patented products, which include:
Wi Column
Wi Beam
Wi Through Lintel
These bespoke products replace traditional wind posts and lintels and offer significant benefits over conventional construction approaches.
Our purpose is to provide innovative masonry engineering solutions to the construction industry that make a positive difference.
Our head office in Wembley serves as a base for our logistics department, where we are able to provide a Just in Time approach to delivering materials to our clients and achieve our complex delivery deadlines.
Over the years of trading the company has achieved various certifications and accreditations such as: ISO 9001: 2015, ISO 14001:2015, ISO45001: 2015, Construction line Silver, Achilles Building Confidence and CLOCS.
Section 2 – How did you hear about FORS, what prompted the company to join and how long have you been a member?
Wembley innovation initially registered with FORS in early 2016 and achieved FORS Bronze accreditation in February 2016. In July 2016, the company migrated to FORS Silver.
Since becoming a FORS accredited organisation, the company has made several changes in the Management System. This includes, but is not limited to, introducing new policies and procedures which had a massive positive impact on the way the fleet and its drivers are managed on a daily basis. We also benefited from additional training and toolkits from the FORS portal and statistical reporting which aided us to make decisions regarding our company fleet such as replacing our older fleet with newer and more environmentally friendly vehicles. This on itself lead to less breakdowns, better customer satisfaction and keeping our OCRS score in the green for all these years.
Section 3 – What was your experience of the initial FORS Bronze audit?
Wembley Innovation Ltd passed the initial FORS Bronze audit in February 2016. While preparing for the audit, the Management created new company procedures, which set up the basis of our current fleet management. Each procedure gave clarity over processes which were new to us, and looking back now, this was the best possible set out for a new company with a new fleet of vehicles. It helped us increase our efficiency, reduce cost, limit road related incidents and increase morale among the company drivers.
Section 4 – What was your main reason(s) for you progressing (either from Bronze to Silver and then Silver to Gold or straight from Bronze to Gold)?
We have been FORS Silver accredited for over 5 years now and we see the benefit of the accreditation every day. We always look to improve and moving forward to FORS Gold seems like a natural course of events, moreover that we now look at FORS as a way to promote our business and increase our client database.
Wembley Innovation benefitted from FORS because at the time of the first Bronze application, we had our company fleet just under development. The FORS Bronze requirements were our guide towards setting up our fleet management the right way from the beginning.
We used the online toolkits and guidance from the beginning which helped us keep our incident records, PCNs and third parties' complaints to a minimum. We continue to use the FORS portal actively, by booking FORS training for our drivers and managers, downloading and communicating different FORS Guides, toolkits and toolbox talks.
For us at Wembley Innovation, FORS portal remains the main source of information when it comes to our fleet management
"It is fascinating how much information we receive from FORS and their portal. It is safe to say that this is one of the accreditations that is actively helping the business improve, rather than just carrying out regular audits and monitor compliance"- Iain Burnett, Managing Director

"I have been contacting FORS helpline on several occasions and they were absolutely brilliant. Even if it is just for some advice on current legislation, they have been a tremendous help for us over the years." Teodora Todorova- Compliance Manager
Section 6 – What improvements have you made?
| | | | | | | | |
| --- | --- | --- | --- | --- | --- | --- | --- |
| | MPG | Incidents per 100,000 Kms | CO2 | NOx | PM10 | Number of PCNs | Proportion of fleet that uses alternative fuels |
| Year 2018 | 13.08 | 0 | 114.19 | 373.37 | 5.59 | 4 | 0% |
| Year 2019 | 13.88 | 0 | 75.08t | 260.51 | 3.90 | 1 | 0% |
| Year 2020 | 15.35 | 0 | 56.87t | 218.16 | 3.26 | 0 | 0% |
| Percentage improvement | +17.35% | 0% | -50.19% | -41.57% | -41.68% | -100% | 0% |
Driver health and fitness review- all drivers complete health and fitness declaration (including HAVS) every 6 months. All drivers must go through external medical examination (D4) every 12 months and an internal eyesight check is done every 6 months.
Outcomes from the above checks and examinations are reviewed by our Transport Manager and whenever a concern is raised, we arrange for further examination and after care before the operative is fit to return to work.
Recruitment of drivers– Since introducing the FORS standard within the business we have been lucky enough to keep our existing drivers without a need to recruit new drivers. We, however, have got a recruitment procedure in place which would be strictly followed when a new driver is recruited within the business
Noise Assessments
Our operating centre is situated in an industrial zone. All neighbouring properties are business centres, without any residential dwellings in the surrounding area. Our Noise Champion, Iulian David is monitoring the noise levels regularly to ensure that we do not cause nuisance
Deliveries are taking place within the agreed working hours
We comply with our clients Noise Pollution Procedures when on their property
Drivers are expected to switch engine off while waiting to enter premises, do not use their horns, unless when necessary, turn off music/ radios while making deliveries and switch off the reversing alarms (as and when required)
Modal Shift and alternative vehicles – at this stage of the alternative vehicles technological progress, it cannot be a working option for us, as the company delivers pallets of concrete blocks and covers distances which could not be facilitated by any alternative electrical vehicle on the market.
Section 7 – What are your plans for the future?
With the ever-tightening rules over air pollution, we are aiming to keep monitoring the progress on the alternative fuel HGVs and when purchasing becomes justifiable, me aim to upgrade the whole fleet to hybrid or green vehicles. With achieving FORS Gold we will also aim to increase or client data base and grow the business to 4 HGVs in the next two years.
Section 8 – What evidence do you have of positively promoting FORS at requirement G7?
We have a requirement for our supply chain to be FORS accredited (Bronze as a minimum). We also have all our fleet labelled and use the FORS logo on the company emails and all correspondence headed letters. FORS is advertised on the company website also.
*Please note: All published FORS Gold case studies have been submitted by the accredited company named above and transcribed verbatim