West Horsley Dairy is a family business based in Woking, Surrey delivering Food Service 'not just milk' to the catering trade. Deliveries started 23 years ago by Catherine & Philip from home using a small van. Today we run 40+ vehicles in London and throughout South East England delivering nightly to over 1400 different premises.
Case Study Title: Can you run an Electric Hybrid vehicle, save money, help the environment and not restrict operational flexibility? – West Horsley Dairy took the challenge in 2015
We first encountered FORS in 2008 at the Commercial Vehicle Show. We were concerned about the No. of PCNS we were receiving in London and thought FORS membership may help. We soon realised that FORS had much more to offer than this and we saw there was an opportunity to be publicly recognised for being a professional Operator.
During all new customer tenders and customer site visits we talk about the benefits and link it to the continual fleet improvements we are making.
The Bronze audit was far more detailed than we expected but we passed first time and looked to progress at a pace where we could restructure our processes to make;
'the FORS way the West Horsley Dairy way'.
We sent our transport managers on the first FORS workshops and realised the benefit of general & specific training on offer for operators working in and around Central London and the Boroughs. An extra spin off has been the ability to meet other operators and share experiences and solutions.
One of our managers was in the first group of managers to achieve the brand new Transport Practitioner qualification course in 2010. We have gone on to make use of all the training workshops offered through FORS and our Transport Supervisors training programme reflects the modules within the FORS Bronze & Silver Standards.
'Its never easy sitting a driver down and teaching them new tricks but using the FORS Cycle Safety e-learning module has really helped, it's a first class training product'.
Case Study: Being a member of FORS has pushed us to want to perform at the highest level and take the lead with new environmentally benefitting technology. We were keen to put an electric powered delivery truck onto the fleet. Investigations showed us that a pure electric lorry was not suitable for our chilled deliveries The electric mileage range was limiting, valuable payload was reduced due to the weight of the batteries & the purchase cost was also some 4x greater than the diesel powered equivalent. As a result we embarked on the development of an alternative that would reduce diesel consumption without compromising operational flexibility.
A food service vehicle needs to have the facility to transport chilled/frozen goods as well as ambient product so there is need to propel the vehicle as well as operate a refrigeration unit. The specification we finally chose was a Mitsubushi 7.5 tonne Canter Fuso Eco Hybrid complimented with a Eutectic refrigeration unit.
The Mitsubushi Canter Fuso Eco Hybrid truck has a Euro 5 Stop/Start diesel engine coupled to an electric motor and 2 kWh lithium-ion batteries with regenerative braking capability. This results in fuel savings being achieved of 20% (The manufacturer claimed 23%!). With the standard refrigerated 7.5tonne truck only achieving 13mpg this is a saving worth having. The vehicle also has the world's first dual-clutch automated transmission for trucks, enabling quiet & smooth transmission changes, ideal for early morning urban deliveries.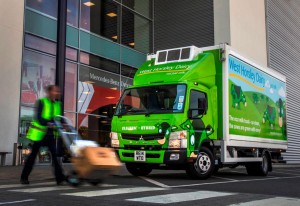 To get the best out of the electric & stop start technology we went looking for a refrigeration unit that wouldn't need the lorry engine running constantly or its own engine to maintain chiller temperatures. We came across a small company in Leicestershire called Jackson Coachworks that were producing a standalone eutectic refrigerated unit for the transporting of chilled & frozen food to the oil rigs in the North Sea. The technology branded as 'Eistechnik' works just like freezer blocks in a picnic cool box, but on a commercial scale. Traditional air blown refrigeration units are extremely pollutant, noisy, and consume on average an additional 5mpg of diesel to run. In contrast Jacksons Eistechnik system needs to be plugged in to the mains electric to be primed but then uses no power once on the road.
'The combined effect of the electric hybrid drive train and the eutectic refrigeration system is allowing us to achieve a 7 mpg saving, week in week out!'
We purchased the first vehicle at an extra cost of £3.5k above our standard 7.5t truck purchase cost. Pay back will be achieved in only 15 months. We are still the only operator in the UK with an Electric Hybrid vehicle coupled with a eutectic refrigerated body and therefore operating the UK's greenest Hybrid Food Service delivery lorry. In 2015 we won first prize at the Association of Catering Excellence – Sustainability Corporate Awards.
We have now put on the road another 4x Electric Hybrid Lorries and wrapped them in a distinctive eco wrap so that they stand out from the crowd. West Horsley Dairy is proud to be a small family business that invests in new and exciting environmentally positive technology.
'We are hoping that TFL notices the green credentials of these new hybrid vehicles and grants them exemption from the London Congestion Charge!'
Obtaining the Gold standard tells our customers that we mean business. We don't just want to comply or even run a quality operation that stands still. We wish to join those operators who are working towards setting new and exceptional standards for industry