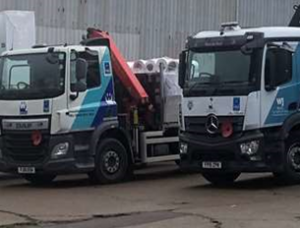 Using its security and logistics expertise, FORS Gold member Wilson James coordinated all the construction logistics for the NHS Nightingale Hospital in East London and also supported the NHS supply chain with the delivery of essential medical items.
This meant making sure that items including drugs and medicines, medical equipment, beds and hazardous waste bags were met on delivery to the site and then categorised, audited, inventoried, stored and delivered to where they were needed, when they were needed and in the right quantities. This required coordination with both civilian colleagues and the Royal Army Medical Corps.
'My name is Tony Lenihan, as the LCCC Transport & Compliance Manager I oversee a fleet of five LGV's and one electric van, which are managed through our fulcrum system' Since joining FORS Wilson James (LCCC) have achieved a significant reduction in fuel usage through good practice measures including; Low-emission trucks (Euro 6), tracking systems for efficient routes to site, no idling policy, external driver training and e-learning courses, WJ & FORS toolbox talks, and the FTA tacho software to monitor driving patterns.
Wilson James has a long-standing commitment to FORS with key involvement at early stages of its development. Wilson James achieved the gold standard of FORS in July 2014 and has been instrumental in assisting various companies with ensuring that vehicles entering their sites are FORS accredited.
'After our initial assessment for FORS bronze was passed first time, we became one of the first companies to obtain the silver accreditation in 2009'. 'We continue to maintain the highest standards by retaining our Gold accreditation'.
'Once we achieved bronze the LCCC benefitted from a more professional, marketable and healthy transport operation'. One benefit in particular as a FORS member is our drivers have access to the excellent toolbox talks which help promote safety, efficiency and environmental awareness.
"The NHS needed security and logistics functions to be implemented and we were ready, and willing and able to respond. We used expertise from all areas of our business to coordinate with the military and other private sector contractor companies to support the NHS. The whole really was greater than the sum of its parts and the level of cooperation and demonstrated across the board was incredible to witness". Jason West, Wilson James Head of Logistics and integration for the NHS Nightingale
"This project just shows how the various elements of the construction sector can come together as one, from design to mechanical and electrical (M&E), when there's such an important goal to achieve. Everyone has dealt with the immense pressure in a positive way, employing a heads down and "let's go for it" attitude. We've all been pushed to the extreme but when the coronavirus pandemic is over, and it will be over at some point, the memory of what was achieved with NHS Nightingale will live on." Keith Winterflood, Wilson James' Director of Operations at NHS Nightingale
We actively promote FORS by the implication of Fulcrum and its collaboration with the FORS website amongst all our clients both within London and UK wide'.
The very nature of Wilson James' business at the Construction Consolidation Centre aims to reduce the vehicle volume on our capitals roads through efficient load consolidation, thereby reducing emissions, congestion and increasing safety. This business objective is wholly underpinned by our FORS Gold standard, we actively encourage all construction clients during all build phases to fully embrace the FORS standards and make them compulsory for site deliveries, and this mandatory compliance is then regulated by the use of our Fulcrum system.
*Please note: All published FORS Gold case studies have been submitted by the accredited company named above and transcribed verbatim