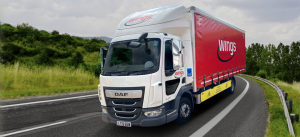 Section 1 – Introduction
Wings Transport is a family business founded by John Bayliss. For over 40 years we have being providing logistics solutions for businesses large and small throughout the UK and Europe from its base in Croydon. Our main business is the distribution and storage of palletised goods.
I am Terence, I joined the company this year as Fleet Office Manager.
This case study gives as overview of how we have progressed through FORS from Bronze to Gold.
Section 2 – How did you hear about FORS, what prompted the company to join and how long have you been a member?
We have been aware of FORS since it was introduced in 2008 and joined as a member in 2011 and accredited for Bronze in 2013. We view the scheme as a way of demonstrating best practice relating to safety, fuel emission and fuel efficiency
Section 3 – What was your experience of the initial FORS Bronze audit?
The process was a very positive experience. The objectives and scope of the audit were clearly communicated and was performed efficiently and effectively in a timely manner.
We believe the audit observations were business relevant and were adequately supported by the appropriate evidence we provided. Proud to say, we passed first time round.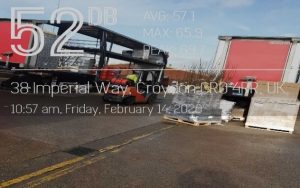 Section 4 – What was your main reason(s) for you progressing (either from Bronze to Silver and then Silver to Gold or straight from Bronze to Gold)?
Our aim of progressing to Gold is to help us improve in all aspects of safety, fuel efficiency, economical operations and vehicle emissions.
We also believe the accreditation will help us become safer, greener and more efficient. Overall, we see this as an excellent way to prove to existing and potential clients our credentials as a high performing operator who adheres to high quality standards.
We use Advanced Check with their FORS discount to check our drivers' licences
We use the Checked Safe app a FORS accredited company so our drivers can do their walk round checks on their phones with no need for paper.
Fuel Card Services also give us a discount for being part of FORS
Our vehicles camera supplier Brigade Electronics is a FORS partner.
The transport team have now completed all the courses and are qualified FORS Practitioners.
"Our team now performs better than ever since they have become FORS Practitioners" – John Bayliss, Managing Director

"I have enjoyed passing on my knowledge gained in the FORS Practitioner courses to our drivers" – Mark Privett, Transport Manager
Section 6 – What improvements have you made?
These shall include:
Performance data – Use data provided for FORS requirements S2 and G2. See example below for table (data can be presented in different table format if you prefer)
MPG

Incidents per 100,000 Kms

CO2

NOx

PM10

Number of PCNs

Proportion of fleet that uses alternative fuels

Year 2017
8.26
0.43
749t
1005t
16kg
12
0%
Year 2018
8.46
0.64
417t
639t
10.7kg
7
0%
Year 2019
8.50
0.70
459t
714t
11.8kg
8
0%

Percentage improvement

On 2017

2.9% Increase
0.6%
– 38.7% Decrease
-28%Decrease
-26.25% Decrease
-33.3% Decrease
0%
All our drivers now complete a health and fitness declaration every 6 months. We also encourage and support our drivers to undertake routine health checks. Our open-door policy provides a safe space for staff to approach management with any health concerns.
We are yet to take advantage of any of industry recruitment initiatives as we have a close relationship with a local FORS associate recruitment agency, and they have been reliable in providing good drivers.
Although we are based on an industrial estate, we actively monitor our noise activities to ensure that levels are kept to a minimum. Mark Privet our FORS Practitioner is also our noise champion. We run noise campaigns and toolbox talks to educate our staff on the effects of noise.
We have been exploring the option of using vehicles with alternative fuels and are always looking at the best to complement our fleet. We investigated the benefits of Trailer solar power system on our recent vehicles, but it wasn't cost effective this time around. We intend to revisit the idea again later.
Section 7 – What are your plans for the future?
We look forward to showcasing our credentials as a high performing operator who adheres to high quality standards and becoming market leaders in the near future
Section 8 – What evidence do you have of positively promoting FORS at requirement G7?
We promote FORS through various means.  The FORS logo is on our website, all our vehicles, all our email signatures, on our notice boards and we actively promote FORS to our customers and other transport companies we work with through the Palletforce network.  We use Mailchimp to reach out to around 1000 existing and potential Customers. These mails will have our FORS logo on the signatures.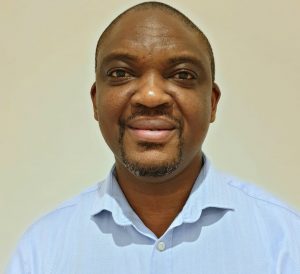 Section 9 –What FORS Gold accredition means for your organisation/to you?
FORS Gold shows to all stakeholders that we are a forward-thinking transport company, with the best values and practices.  We therfore hope to attract the best quality staff and companies to work with.
Section 10 – (Optional) Please provide your social media contact details so we can follow your organisation
LinkedIn:                     https://www.linkedin.com/in/mark-bayliss-b3328621/
Our website is:            www.wingstransport.com
Section 11 – FORS members' feedback questionnaire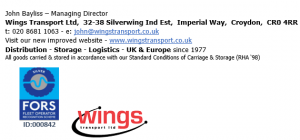 Please could you take the time to complete a short questionnaire and provide feedback about FORS. Please note all answers you provide will be strictly confidential and will only be used by FORS to help us to improve the scheme. To access the survey, please click the link here: https://www.snapsurveys.com/wh/s.asp?k=153908006313
Road risk
Mark Privett, one of our FORS Practitioner's is a qualified HGV driver, he is also one of our Transport Manager's. Mark is responsible for carrying out regular driving assessment to ensure habits are not formed. Assessments are also carried out after collision. We also run road safety campaigns, toolbox talks, and all our driver undertake the relevant FORS eLearning. We have also invested in vehicle safety equipment including cameras and reversing bleepers to protect other road users, our staff and vehicles. Routine gatehouse defects and safe loading checks are also carried out.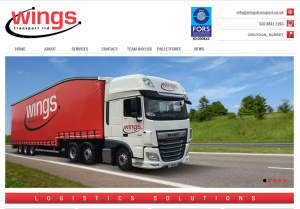 We use our Daily Management Board and a Pareto chat to record and monitor and analyse our road risk and other safety incidents. The board is displayed in our transport office. It represents a quick visual indicator to our biggest challenges related to Safety and Road risk incidents. Our action tracker shows the action in place to help minimise the number of incidents.
Please refer to WINGS Transport Daily Management Board for an example.
This year we have picked up a reasonable amount of work in the South West (SW6 & SW 9) of London where it is very challenging to find loading bays, this has contributed to our increased number of PCNs.
*Please note: All published FORS Gold case studies have been submitted by the accredited company named above and transcribed verbatim