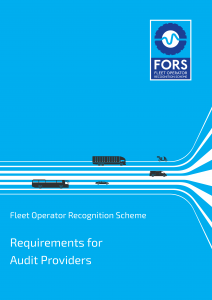 To become a FORS audit provider, organisations must apply and adhere to the processes and requirements set out in the FORS 'Requirements for audit providers' manual which should be read in conjunction with the FORS Standard. The purpose of the requirements is to ensure that all FORS audit providers offer a consistent high quality service to members.
This manual is now available to download from FORS Online. Click here to download your copy.
If you are interested in becoming a FORS audit provider and believe that your organisation can meet the requirements please email enquiries@fors-online.org.uk.
Please note the application process to become a FORS Audit Provider has now closed and will restart in autumn 2021. In the meantime organisations with an interest in becoming a FORS Audit Provider should complete the Expression of Interest and send it to SMBFORSProfessional@tfl.gov.uk and you will be contacted in the autumn.