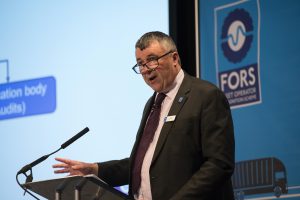 FORS will be providing speakers and exhibiting at many industry exhibitions and conferences all over the UK. Come and visit us at one of the following events to find out about the latest FORS news, developments, toolkits, training and member only offers.
Please see below (month by month) all the events we will be attending this year:
To view past events, please click here.
FORS Members' Regional Briefings
The FORS Members' Regional Briefings will return this autumn at seven strategic locations across the UK. The regional briefings will take place between October and November.
The series of events is free to attend and will provide an update on current FORS developments, including version 5 of the FORS Standard, as well as the FORS Members' Conference 2019 and  compliance and auditing matters. The four hour briefings will give FORS members a chance to network among like-minded professionals, as well as to interact with the presenter and ask any FORS-related questions.
The briefings will be delivered by FORS Head of Quality Assurance and Compliance, Graham Holder.
To read more on the FORS Members' Regional Briefings, click here.