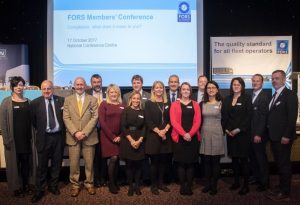 FORS will be providing speakers and exhibiting at many industry exhibitions and conferences all over the UK. Come and visit us at one of the following events to find out about the latest FORS news, developments, toolkits, training and member only offers.
In 2016 FORS held its very first Members' Conference which was attended by over 400 members. Due to the huge success of this event, we will be holding a second FORS Members' Conference later in 2017 – please look out for more information on the web or in your eNews.
Please see below (month by month) all the events we will be attending this year:
2017: December
To view past events, please click here.
December 2017^
WhatVan? Awards – The Brewery, London – 13 December
FORS is sponsoring the Safety Award at this years WhatVan? Awards. The What Van? magazine awards are renowned as the most prized independent endorsements of excellence in the light commercial vehicle industry. The awards seek to reward the best products, companies and services in the industry for their ability to make life easier, cleaner, safer and more efficient for LCV operators in the UK. For more information on this event, please click: WhatVan? Awards