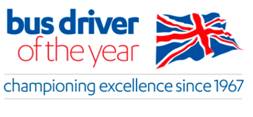 Will you be nominating your exceptional drivers in the upcoming 2018 Bus Driver of the Year Competition? The event, considered by many to be the premier skills competition in the bus industry, will be held on 1 and 2 September in Blackpool.
Drivers of local bus companies and inter-urban express services are eligible to enter if they have been employed as a driver (not necessarily by the same company), since 1 September of the year preceding the competition.  To qualify, they must also prove that during the same period they have not been involved in an accident for which they are in any way at fault, have not been absent from work for any period exceeding 14 weeks continuous duration, and have no extant endorsements on their licences.
The Bus Driver of the Year Competition seeks to reward full-time drivers who exercise their skills throughout the year, and it is therefore also a requirement that a driver works at least three full shifts per week in order to qualify for entry to the competition.
99 finalists from large and small operators throughout the country entered the 51st national final of the UK Bus Driver of the Year Competition last year.
To find out more about rules and eligibility, as well as how to enter, please visit the Bus Driver of the Year website.