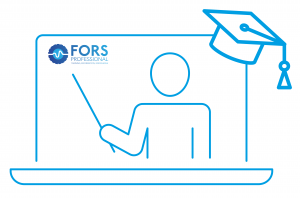 In order to allow members to undertake manager training despite the restrictions on movement currently in place, all FORS Professional classroom-based training courses are now being held as live, online webinars and are available for all FORS members to register to attend.
FORS Professional Practitioner workshops, FORS Professional Car and Van Fleet Management Essentials, FORS Professional HGV/PCV Fleet Management Essentials, and FORS Professional Collision Management have all been adapted to suit the online format.
The webinars are delivered by our usual trainers, with participants able to follow the presentation on their screen and given the opportunity to interact and ask questions.  Participants will need a computer or laptop, ideally with a microphone, as well as headphones, stable internet connection and sufficient battery charge for the duration of the webinar and/or a charger available.
All members can now book onto these webinars – for information about the webinar times and dates, and to access the booking links, click here. For general information about FORS webinars, check our webinar frequently asked questions page here.
Sonia Hayward, FORS manager, said, "We are delighted that members are able to continue with their professional development, but of course also appreciate that members' circumstances will vary and that not everyone will be able to undertake any online training at the moment. We would simply encourage members to make the most of their membership and to continue with their professional development online if they can. Whilst on-site audits and downgrades are suspended, attendance to any online eLearning or webinar will still count towards meeting the FORS requirements and help with FORS accreditation in the future."