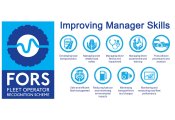 Shaun Bromby of Southampton based Lambert Brothers Haulage became the 450th FORS Practitioner on 21st April.
FORS Practitioner status is awarded to individuals who have completed all nine of the FORS Practitioner workshops.
Shaun said: 'I am delighted to achieve FORS Practitioner status and proud to be the 450th individual to reach this grade. The workshops have enabled me to gain a better understanding of FORS and its objectives and therefore ensure that Lambert Brothers Haulage make the most out of their accreditation.'
FORS Practitioner workshops are designed to keep fleet managers up to date with industry developments and best practice in safe, green and efficient operations and to help companies maintain and progress through their FORS accreditation.
All workshops are available free of charge across the UK. If you are interested in attending a workshop session please click here.