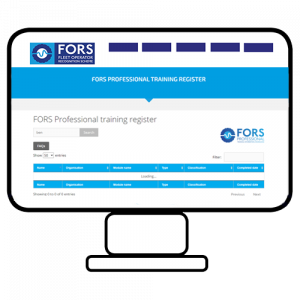 FORS members can evidence that all mandatory training for their drivers and managers has been completed by downloading the relevant information from the FORS Professional training register.
The FORS Professional training register provides a record of the FORS Professional and FORS Approved training completed by individuals – this includes classroom-based, webinars and eLearning modules. All valid training is displayed in accordance with the mandatory professional development timeframes set out at Annexes 1 and 2 of the FORS Standard.
You can search for an individual's record by name, organisation or training course. You can also search on parts of words and filter your results. Your search result data can be exported into a CSV file which you can use as evidence for your FORS audit. If you have any questions about records, changes to records, etc, please check the FORS Professional training records FAQ section, or email the FORS Helpline at enquiries@fors-online.org.uk.
To access the FORS Professional training register, click here – you will need to be logged into your FORS organisation account with your usual name and password.