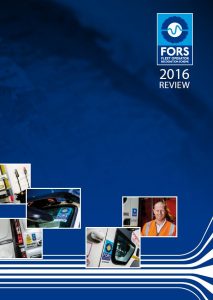 The FORS Annual Review 2016 has now been published. All member contacts will have received their personal copy by post, however let us know if you would like extra copies. Alternatively you can download a copy from the FORS website .
The Annual Review discusses the substantial 22% growth of the scheme over the past year, but there's much more besides. FORS members can analyse the details of the scheme's far-reaching developments, its training successes, how the scheme is benefiting both transport operators and the wider economy and, importantly, objectives and plans for the future.
FORS has enjoyed significant expansion in 2016. Against the backdrop of overall membership growth, there are now 49% more FORS Gold members and 69% more FORS Silver members; a clear commitment from operators wishing to self-improve and progress.
Among the many highlights in 2016, FORS hosted its first national FORS Members' Conference. Over 400 delegates from across the UK convened in Birmingham to talk about safety, efficiency and the FORS Standard. The Annual Review provides an excellent round-up of the day's events.
2016 also saw some notable milestones for FORS, including the 4000th accredited member, the 500th Silver member, the 150th Gold member, and the 500th FORS Practitioner.
"We expect 2017 to be another dynamic year for the scheme," said FORS Director, John Hix, who also prefaced the Annual Review, "the FORS team will continue to work with our members to raise standards across the industry," he said, "to work towards safer, greener and more efficient operations.
Please click here to download a copy of the FORS Annual Review 2016.