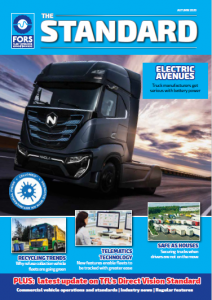 The autumn edition of FORS magazine 'The Standard' is out now and available to download online. The magazine is dedicated to operators, suppliers and transport professionals, focusing on best practice in the transport sector. You can also find member-exclusive offers and discounts from FORS Associates.
This issue covers a wide range of topics relevant to FORS members, including:
Recycling trends and why refuse collection vehicle fleets are going green
Telematics technology and new features which enable fleets to be tracked with greater ease
Electric avenues for truck manufactures moving towards alternatively powered vehicles
A hard copy of 'The Standard' has been posted to all FORS primary contacts. If you are a primary contact and have not received your copy, please email the FORS Helpline – enquiries@fors-online.org.uk. This issue was printed using a new protective additive that kills microbes and avoids them being passed on to subsequent handlers, reducing the transmission of microbes between people.
To download your online version, click here.
If you would like to share how  FORS as improved your business (for example if you have introduced a new initiative promoting environmental awareness, or road safety), please email 'The Standard' editor – matthew@cvdriver.com.