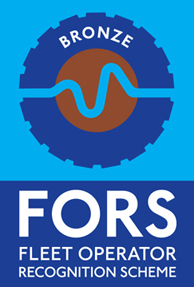 Are you getting ready for your FORS Bronze audit? Whether it is your first audit, or a re-approval audit, start preparing early and avoid the most common reasons for failed audits March 2019.
The table below highlights the top six reasons for failure in March and provides tips on how to avoid these:
Requirement

Reason for failure

Be able to demonstrate that you have…

M1 – FORS Documentation
Failure to provide one or more of the mandatory 17 written policies and procedures

Established a policy and procedure for each of the required areas as outlined in the FORS Standard
Evidenced that all policies and procedures have been approved and signed by senior management, and are readily accessible to staff across all operating centres where applicable
Provided evidence that FORS documentation is reviewed a minimum of once every 12 months

Top tip – Use the M1 Checklist to ensure you have covered all 17 policies and procedures

M8 – Health and Safety

Failure to provide one or more of the mandatory 8 health and safety risk assessments

Failure to provide one or more of the 8 mandatory operational and driving at work risk assessments or method statements required where applicable

Aligned the required risk assessments and method statements to your operation
Justified why a particular risk assessment or method statement is not available at audit

Top tip – Use the M8 Checklist to ensure you have covered all mandatory risk assessments

D4 – Professional Development

Failure for relevant staff to have undertaken the required mandatory training courses

Failure to produce a professional development plan for all staff

Got all your drivers and all other staff involved in the fleet operation trained in accordance with the mandatory training requirements listed at Annexes 1 and 2 of the FORS Standard
Recorded all training completed on a training matrix or using the FORS training dashboard and included ALL employee names

Top tip – if you want to use the recently launched Training dashboard to evidence how you meet this requirement, make sure you read the full guidance within the dashboard so that you submit accurate training records

A professional development plan (PDP) in place that includes the names of ALL  drivers and all
other staff involved in the fleet operation

Top tip – a PDP and completed training can be evidenced in the same document.  Certificates can also be provided at audit to demonstrate that mandatory training has been completed

D6 – Health and eyesight

Failure to carry out eyesight checks at the required interval

Failure to record when the eyesight checks are carried out

Failure to have a policy in place

Conducted drivers' eyesight checks  no longer than six months apart, or after a blameworthy incident
Recorded the eyesight checks, including the following mandatory information: driver's name, date completed, name of the person supervising the check, vehicle registration plate used, outcome of the check (pass/fail) and details of any follow-on actions
A policy in place and be able to show it to the auditor

V1 – Serviceability and roadworthiness

Failure to maintain vehicles, trailers and specialist equipment in a serviceable and roadworthy condition in accordance with their operator licence undertaking or according to manufacturer guidelines

Failure for the inspection and maintenance plan to include a minimum of 15 months' history and six months' forecast

Failure to provide up to date LOLER certificates or tachograph certificates

Provided an inspection and maintenance plan (Preventative Maintenance Inspection sheet for operator licence holders) in either hard copy or electronic format
Included a minimum of 15 months' history and forecast a minimum of six months ahead as detailed in the V1 demonstration

Top tip – for operator licence holders, make sure you follow the DVSA guidelines for planned maintenance as required in the "Guide to maintaining roadworthiness"

The relevant certificates for any specialist equipment operated that requires LOLER examination and tachograph examination

Top tip – ensure that any third-party service provider used supplies service records in a timely manner

O7 – Counter Terrorism

Failure to provide evidence of risk assessments and policies

Failure to provide evidence that the risk assessments and policies are being communicated to staff

Provided details of a company policy and supporting procedures which include risk assessments/method statements

Top tip – check the FORS Counter Terrorism toolkit to help you write an effective counter terrorism policy. The toolkit includes a checklist of the key actions you need to undertake to meet Bronze requirement O7
Top tips, along with other useful information to help you prepare, book and pass the FORS Bronze audit, can also be found in the FORS Bronze Audit Toolkit.
FORS also offers a free 'Going for Bronze' workshop, specifically designed to guide and support you through the whole process – from registration right through to Bronze accreditation. You can also attend this workshop prior to your re-approval Bronze audit to help you prepare against version 5 of the FORS Standard.
For more information and to book your place on the special 'Going for Bronze' workshop, click here.