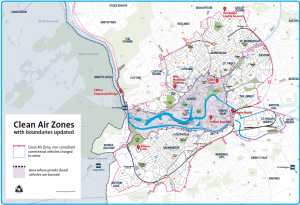 Bristol City Council is to introduce two Clean Air Zones (CAZ) in March 2021 following a government mandate to improve air quality within the city limits.
The first zone is a medium area CAZ where non-compliant commercial vehicles such as buses, coaches, taxis, Private Hire Vehicles (PHV), HGVs and LGVs will be charged to enter. Private vehicles will not be charged. Inside that zone there will be a smaller zone where private diesel vehicles are banned between 7am and 3pm daily.
Automatic Number Plate Recognition (ANPR) cameras will be used to enforce the charging zones for non-compliant vehicles. Penalty Charge Notices (PCNs) will be issued to drivers who choose not to pay the charge.
Commercial vehicles that have paid to enter the medium size CAZ can enter the Diesel Ban Zone as they have already paid, however, private diesel vehicles cannot pay to enter the Diesel Ban Zone and will be fined if they do. The ban does not apply to petrol cars.
To learn more about Bristol's clean air initiative, click here.