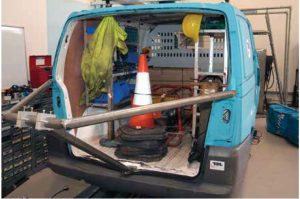 Poorly secured loads can cause injury or even death in the event of a collision. While it is sometimes associated with van operations, for heavier commercial vehicles the result can be costly or, at worst, catastrophic.
In the pilot issue of FORS magazine The Standard, which was launched at the CV Show, we had a special feature on a load restraint test at the Transport Research Laboratory (TRL). The test was carried out to prove just how dangerous bad loading and the fitment of 'cheap' bulkheads and racking can be.
The first test involved a typical builder's van poorly loaded with a pallet of bricks, a generator, some road cones and tools, along with a 'home-made' racking system. A plastic tube carrier filled with copper piping was also mounted on the roof; the final load weighed in at 515kg. The vehicle was then crashed under test conditions at 30mph. The racking virtually disintegrated and the bricks were almost all broken in half. The whole load piled itself into the bulkhead, snapping it off and pushing it into the cab – which was likely to have caused major injury or death for the driver. The plastic tube carrier snapped off and its contents went flying forwards, with potentially fatal consequences for passers-by.
The second test, by comparison, used correct loading and a professional racking system that was designed and fitted by specialist installer, Sortimo. The same test-crash was conducted and the load remained secure and in place, and with only slight deformation of the racking system.
FORS Professional Van Smart training covers all aspects of safe loading and unloading. And for truck operators, our Toolbox Talks V5: 'Safe loading and load restraints' provides all you and your drivers need to know. It's a critical aspect of safe, efficient commercial vehicle operation – and it could save lives.
The Standard has been posted to all members. If you have not received your copy yet, you can view the magazine by clicking here.