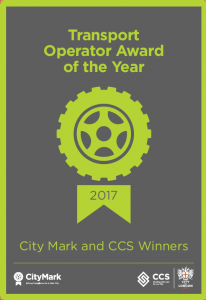 Do you know of, or are you, a transport operator who is a role model for safety and professionalism for the industry?
City Mark is part of the City of London's Road Danger Reduction Programme, focusing on the road safety compliance at construction projects in the City.
A City Mark award will be given to a transport operator operating a fleet of vehicles for demonstrating a level of best practice and customer care when delivering to the City of London. We are looking for clear ambassadors that not only excel in compliance and safety, but are also exemplars of customer service.
This award will go to a transport operator that demonstrates going 'above and beyond' their care of duty and who is a clear role model of safety, customer care, cooperation and integrity. They will demonstrate that they have established safe and effective transport operations needed to be in a position to explain and evidence a range of fleet management areas, specifically covering the below:
Demonstrating your strategy to get from Bronze to Silver and onto Gold membership of FORS
Explanation of your fleet strategy to move towards safer and more direct vision vehicles
The training and development of all your staff not just drivers
Implementation of best practices that have reduced collisions or bent metal insurance claims
Customer satisfaction data from your clients or community road safety initiatives supported
If you think you know an operator, please email your submission by Wednesday 14 June 2017 to: citymark@cityoflondon.gov.uk or call 020 7332 1234 for more information.
As City Mark is a pilot scheme, transport operators that service the following sites in the city will be prioritised:
Sir Robert McAlpine 100 Fenchurch Street
Multiplex 100 Bishops Gate
Mace (Keltbray) 21 Moorfields
Barratt Homes, Sugar Quay
Skanska New Ludgate
Multiplex Goldman Sachs
Carillion Bartholomew Close
Mace St Mary Axe
Crossrail, Liverpool Street
A J Morriseroe The Minories
BAM 8 Salisbury Square
Multriplex Leadenhall Street
Tideway Blackfriars
GOOD LUCK!