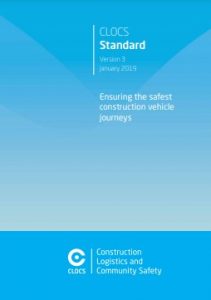 Construction Logistics and Community Safety (CLOCS) is inviting members of the transport industry to submit comments regarding the forthcoming version of the CLOCS Standard to be released later this year.
Fleet operators should not be alone in taking responsibility for road safety and work-related road risk (WRRR). In construction, responsibility for driving down serious incidents related to vehicles servicing construction sites sits with a number of stakeholders. CLOCS brings together construction clients, local and planning authorities, contractors and fleet operators to raise standards across the whole supply chain.
The construction industry is increasingly being required to meet the CLOCS Standard and FORS is a simple way for fleet operators to demonstrate exemplary levels of safety, efficiency and environmental protection to customers and supply chain, and importantly compliance to the CLOCS community.
The next version of the CLOCS Standard is due for publication in late 2021 and CLOCS is inviting comments on what the industry would like to see included or changed.  With the industry already undergoing massive change as it deals with the ongoing situation with COVID-19 and the fallout from Brexit, it has been agreed by the CLOCS Strategy, Standards and Governance Board that the intention is to undertake a 'light touch' review unless specific and urgent issues are highlighted.
The requirements of the CLOCS Standard are kept under review to take account of collective feedback, new research findings and emerging best practice in relation to managing WRRR. CLOCS is an industry standard and fleet operator input is vital to ensuring that the CLOCS Standard meets the requirements of those who operate in construction and our collective commitment to ensure the safest construction vehicle journeys.
Any feedback should be emailed to support@clocs.org.uk no later than Friday 30 July with the subject 'CLOCS Standard review'.