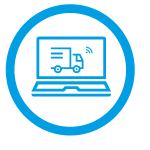 At a time when the focus is on reducing the spread of COVID-19, going paperless can help to mitigate the risk of virus transmission through different surfaces, such as vehicle and driver paperwork. FORS Fleet Management System (FORS FMS) can help you reduce this risk by moving on from paper-based monitoring to a comprehensive online fleet management system.
FORS FMS, a FORS Affinity Partner product powered by FleetCheck, delivers a comprehensive platform enabling complete vehicle, driver and organisation management. The state-of-the-art design equips members with the tools needed to obtain and maintain FORS accreditation.
A FORS FMS Mobile app is also available. It was designed to help streamline vehicle inspection processes and is free to all FORS FMS paying subscribers. The app allows drivers to directly submit a range of data, including fit-to-drive declarations, input fuel purchases, and report incidents.
To learn more about FORS FMS, click here.