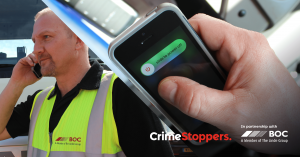 Independent charity Crimestoppers and FORS member BOC have launched the 'Out of Sight, Peace of Mind' campaign, urging transport and logistics companies, and professional drivers, to stay off the phone when behind the wheel.
The collaboration between Crimestoppers and BOC follows increasing concerns about the use of mobile phones while on the move. The campaign was prompted by research published by the British Medical Journal showing that:
Drivers are four times more likely to be in a crash if using their phone.
Drivers using a mobile phone are slower to recognise and react to hazards.
Even careful drivers can be distracted by a call or text – and a split-second lapse in concentration can result in a crash.
Rodger Holden, Director of Business Development at Crimestoppers, said, "BOC sets the standard that others can follow in terms of taking responsibility for staff welfare and their actions when driving. They, like we, appreciate that drivers who are not distracted can avoid collisions that harm people, cost money, and damage company and personal reputations.
"We are reaching out to respected organisations like BOC to join us, to champion this campaign and to increase the number of companies adopting a zero tolerance approach to mobile use. Remember: a moment's distraction could be a lifetime's regret."
Rob Bryson, National Transport Manager from BOC, added, "We introduced a zero-tolerance mobile phone policy over 10 years ago and have proven it's possible to be an efficient, successful company without needing to speak to our drivers whilst they are on the road – and that includes on a hands-free system.
"Nothing is more important than a person's life. We hope this initiative will have a wider influence in the longer term as more and more companies commit to champion the highest road safety standards."
Under FORS Bronze requirement 'D5 In-cab technology', fleet operators shall not cause or permit a driver to use a handheld mobile phone while driving, and where possible they shall restrict the use of any distractive in-cab technology. This is to ensure that drivers are not distracted from the safe operation of the vehicle. Any FORS operator whose driver is found to be using a handheld mobile phone will be sanctioned in line with the FORS Compliance and Enforcement Guidance.
If you would like to champion this campaign, please email Alex.Haughton@crimestoppers-uk.org who will send you a media toolkit which will include collateral and digital assets.
To find out more about the campaign and to get involved, please visit Crimestoppers.