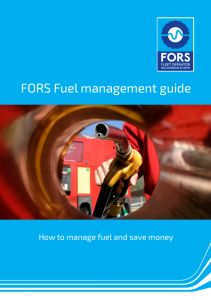 FORS's mission is to help fleets across the UK operate in the safest, smartest and greenest way possible, which often results in major savings for members.
A focus of 181 FORS Gold Case Studies indicated that members on average reported a 12 per cent improvement in fuel usage and a 14 per cent reduction in the amount of CO2 generated.
FORS operators are required to have policies and procedures in place to manage fuel, monitor fuel consumption and vehicle emissions. Of the many tools available to help members operate efficiently is the FORS Fuel management guide aimed at operators of heavy good vehicles, passenger carrying vehicles and vans.
The guide provides practical advice to help implement robust policies, management systems and training that will reduce fuel use, environmental impact and safety related issues.
To access the FORS Fuel management guide, click here.