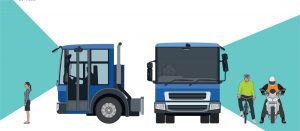 The 90-day grace period for vehicles that have a confirmed booking with a CVRAS-approved fitter for an approved retrofit solution to meet the Direct Vision Standard (DVS) came to an end on Saturday 29 May.
This means that any vehicles without a valid safety permit are no longer allowed to enter or operate in London and may receive a £550 Penalty Charge Notice (reduced to £275 if paid within 14 days) for each day the vehicle is driven within the DVS area.
Please be aware that:
The DVS operates in the same area as the London Low Emission Zone (LEZ)
The DVS uses a star rating system to rate HGVs based on how much a driver can see directly through their HGV cab windows, ranking from zero star (the lowest level of direct vision) to five stars (highest level of direct vision)
To qualify for a permit, HGVs require a minimum of a one-star rating. Vehicles rated zero star will only be granted a permit if they are fitted with 'safe system' measures
The permit scheme operates 24 hours a day, every day of the year
The permit is free to obtain
To find out more about DVS, click here.