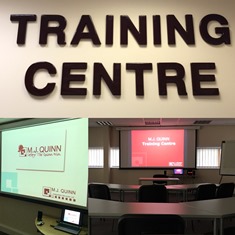 With a team of over 220 drivers, 60% of which work exclusively at night, it was always going to be a challenge to ensure drivers at FORS Bronze member, M.J. Quinn, were fully compliant with the Work Related Road Risk (WRRR) requirements by 2017. However, the multi-disciplined integrated services company worked hard to ensure it met this requirement by taking advantage of FORS training.
M.J. Quinn has always strived to maintain and improve its standards in all aspects of health and welfare, with work related road safety being no exception. The company has successfully maintained its FORS Bronze accreditation for four years, and has introduced FORS principles into its core fleet management system and driver checks.
All M.J. Quinn drivers completed a Safe Urban Driving course in order to comply with the WRRR requirements. The SUD courses were delivered by a FORS approved trainer at the state-of-the-art training facility at M.J. Quinn's Southern Logistics Centre. Hosting the course in-house allowed the fleet management team, as well as drivers, to gain a practical understanding of all elements of the course.
Adele Freeman, Logistics & Transport Assistant Manager at M.J. Quinn said, "We are proud to say that M.J. Quinn has vastly increased its investment into road safety training across our entire southern operation, and successfully met our target of being 100% WRRR compliant by 2017."