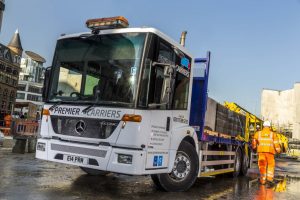 FORS Gold member Premier Carriers has taken delivery of a new Mercedes Econic tractor unit with features that give the truck the edge over conventional trucks when it comes to the proposed Direct Vision Standard (DVS).
The Econic cab features a deep, panoramic windscreen and full-height glazed passenger door, along with a low seating position for the driver. The new truck allows the driver to make direct eye contact with cyclists and pedestrians to the nearside – previously obscured by the more traditional solid passenger door. The truck also incorporates a number of recent cab refinements including a driver's door which is higher and opens more widely, and a re-profiled floor that makes cross-cab access easier.
Tony Bacon, Transport Manager at Premier Carriers commented, "We presented this vehicle to a number of our customers, namely Thames Tideway and High Speed 2, and they were all in favour of this vehicle and its state-of-the-art braking system. We are now considering upgrading our fleet with this vehicle."
Transport for London (TfL) has launched the next phase of consultation on a new HGV Safety Permit as part of the Mayor's DVS which was introduced earlier this year in a bid to reduce road danger. For full details and to share your views, please click here. The proposed permit scheme is part of the DVS proposals and would require HGVs over 12 tonnes to hold a Safety Permit to operate in London from 2020. TfL would like your views on the Safety Permit Scheme, which could include safety systems such as sensors, visual warnings and comprehensive driver training, this consultation will run until 24 January 2018.