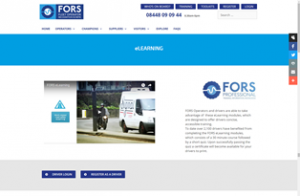 Registering for FORS eLearning has never been easier. If your staff or drivers don't have an email, they can simply register with a user name of their choice.
There are a couple of routes to access  FORS eLearning modules:
If you are already registered, please click here. There is a 'forgotten password' function if required
If you have never registered for eLearning, please click here to create an eLearning account
The following six eLearning modules are available through FORS:
Cycle safety
Van Smart
Work related road safety
Parking and loading legally
LoCITY: Time to clean up – learning for drivers
LoCITY: Time to look ahead – learning for managers
Should you require any assistance in getting your drivers registered on eLearning, please contact the FORS helpline on 08448 09 09 44 or email enquiries@fors-online.org.uk.