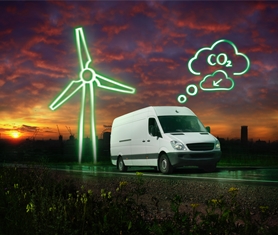 Join a new two-part webinar series developed by FORS in partnership with BP Fuel Cards, which is designed to help members implement carbon management strategies.

FORS members are required to monitor and manage fuel consumption and emissions, but this webinar series will go a step further and teach members about the risks and opportunities of starting a carbon reduction journey.
The webinars will provide an introduction to the broader climate challenge, how this impacts freight and logistics businesses and set out practical advice to help members build a carbon management plan to reduce emissions and make cost savings.
The first webinar, 'Why act now to cut costs and carbon?' will be held on Wednesday 3 May and is for fleet managers looking to start their carbon management journey.
Agenda:
Welcome and introduction
Understanding the climate change challenges
The potential climate change risks and opportunities to businesses
Identifying the opportunities and the benefits available for your business
Baselining your fleet carbon emissions/footprinting and setting targets Q&A
Setting objectives and practical solutions to building a plan and reducing emissions
Q&A
The second webinar, 'Best practice in carbon management', to be held on Tuesday 9 May, will look at practical ways of reducing and offsetting emissions.
Agenda:
Welcome and introduction
Using a carbon management plan
Executing a reduce, replace and neutralize strategy
Leveraging the brand and reputation benefits
Q&A
FORS members can sign up for the free webinar by registering with their FORS ID number here. Members will be able to dial in to the audio/visual presentation wherever they are in the country.