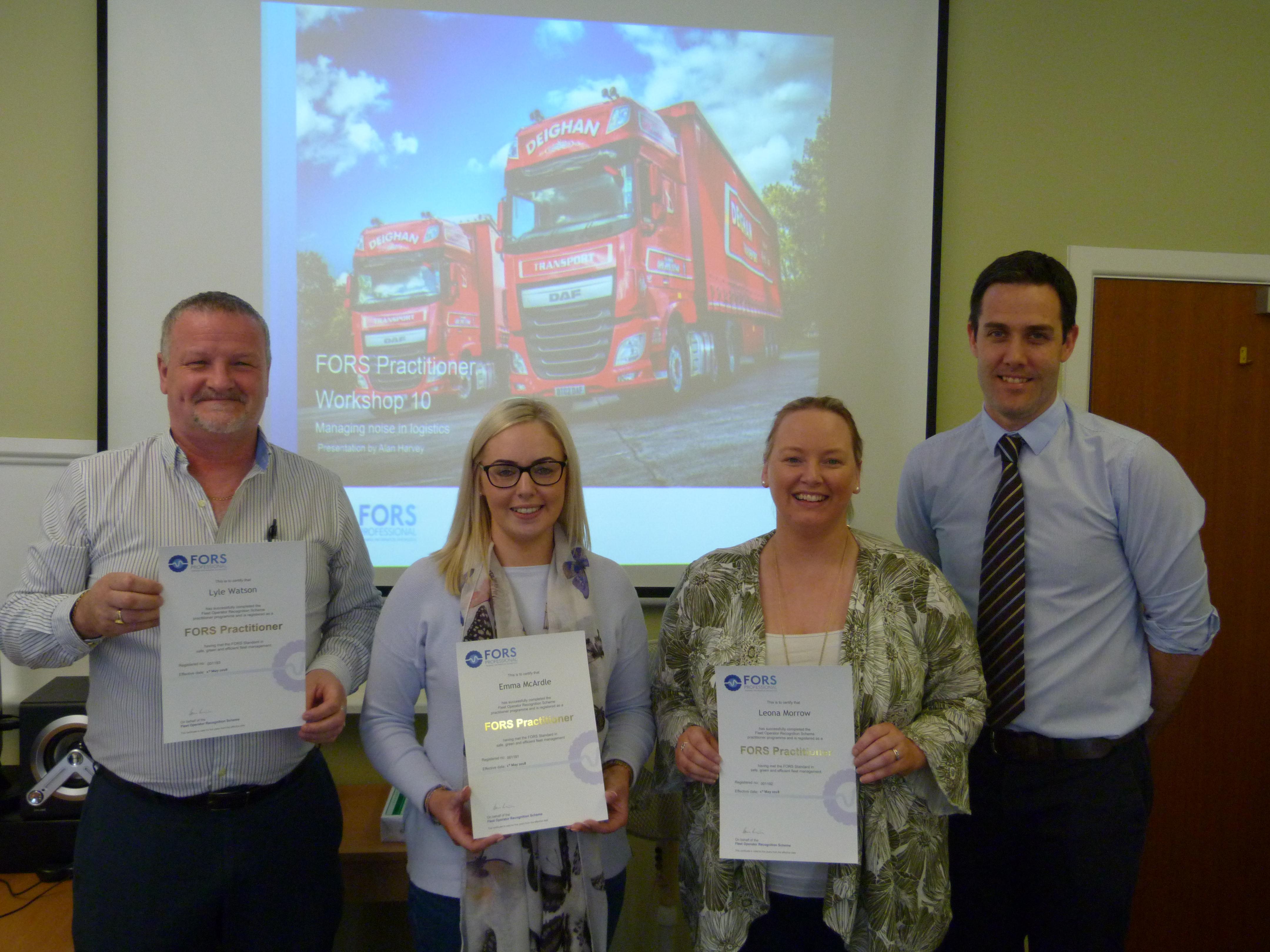 Congratulations to Lyle Watson from FORS Bronze member McBurney Transport, and Emma McArdle and Leona Morrow from FORS Bronze member Argo Merchants on achieving FORS Practitioner status – the first FORS Practitioners in Northern Ireland.
Emma said, "I found the FORS Practitioner workshops extremely useful – challenging at times, but, ultimately, I know that the knowledge gained will prove beneficial in my day-to-day job. And, what I found of great value too," she added, "was the chance to share the learning experience with fellow transport professionals. We are all from very different operations with very different fleets, but the FORS focus on safety, efficiency and sustainability applies to all of us."

Northern Ireland FORS Manager Peter Morrow shared: "We launched the FORS Practitioner workshops here in Northern Ireland just six months ago, and the uptake from FORS members has been very positive indeed. Lyle, Emma and Leona set themselves a challenging deadline to complete all 10 workshops in a relatively short period of time," he said, "which is testament to their hard work and dedication – and they're now fully equipped to excel in their demanding roles."
Additional FORS Practitioner workshop dates were recently released for July, August and September. To find out more about the FORS Practitioner workshops and to book your place, please click here. FORS Practitioner workshops can also be delivered in-house. For more information on this and the fees, please click here.
As an added benefit, since May 2018, members are able to claim 2.5 CPD (Continuing Professional Development) hours for every FORS Practitioner attended – so a total of 25 CPD hours for the whole Practitioner series made up of 10 workshops.