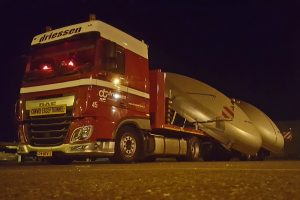 FORS would like to congratulate Driessen Speciaaltransport on becoming the first operator to achieve FORS Gold accreditation in the Netherlands and internationally. The organisation, which passed its first Bronze audit in 2013, progressed to Silver in 2017.
Third generation owner Fred Driessen said, "Straight away we could see that FORS would be of huge benefit to us, giving us the tools to manage, control and maintain existing company processes, while improving best practice and furthering the education and health of our drivers".
The Horst-based Dutch company, which transports precast concrete for walls, slabs and building components, achieved a six per cent reduction in C02 since 2017. Tools and training such as FORS Fleet Management System (FMS), FORS Driver Licence Checking Service, and FORS Practitioner workshops all allowed the company to measure its performance and therefore manage its fleet in a safer, greener and more efficient way.
Fred Driessen added, "FORS Gold accreditation means a lot to our organisation, and I am very proud to see our vehicles carrying the FORS sticker. We are a company which transports under the highest safety and operational standards and with excellent vehicles and drivers.  We have gone from concrete to Gold."

FORS Director John Hix, said: "We are delighted to welcome Driessen Speciaaltransport as our first Dutch Gold operator. This achievement is testament to the hard work the whole team has put in to raising standards across their business."
FORS accredited operators can be found in over 35 countries outside of the UK, such as France, Spain, Italy, Czechia, Belgium and Poland.