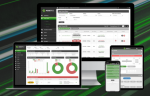 Sheffield based FORS Associate Digital 2000 recently announced that it is forming a new business along with the rebrand of its fleet and workshop management system, CheckPro. The new business is called Asset Go Solutions Ltd and its software product AssetGo.
Matt Cotton, Founder and Managing Director of Digital 2000 and Asset Go Solutions Ltd, explained the reasons behind the change, "Since launching CheckPro, over three years ago, it has undergone significant development. Evolving from a checklist tool to a comprehensive highly versatile asset, fleet, and workshop management system. We have become a leading provider to businesses operating in logistics, haulage and waste management. With this in mind, we felt that the original name did not now fully reflect the system as it is today."
Cotton continued to explain he believes the new name AssetGo 'honours what their original marque stood for' while also propelling the brand into the future.
FORS Associates are companies whose products and services directly align with the FORS philosophy of safety, efficiency and environmental protection, and who provide members with exclusive offers and discounts.
To view a full list of FORS offers and discounts, click here.
For more information on AssetGo, click here.