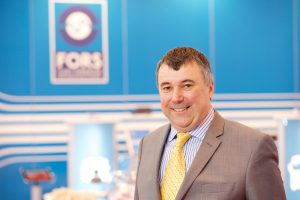 FORS, the Fleet Operator Recognition Scheme, will be supporting the Brake Fleet Safety Conference at the St John's Hotel, Solihull, on Thursday 25 May 2017.
FORS is pleased to be supporting Brake as the headline sponsor for its Fleet Safety Conference this year. The annual conference will cover road safety related issues with a focus on drivers, their vehicles, road safety in the community and protecting vulnerable road users.
Safety remains top of the FORS agenda, particularly with respect to vulnerable road users, and supporting the Fleet Safety Conference is an ideal opportunity for both FORS and Brake to share views surrounding operational best practice – especially safety – in the road transport industry. The conference also brings together fleet professionals and suppliers, providing them with an opportunity to discuss specific fleet safety measures. The full agenda for the conference is available to view here.
"Safety is at the heart of FORS and the Fleet Safety Conference is a great way for us to continue to spread that message and encourage operators to embrace best practice," commented John Hix, Concession Director at FORS. "Brake continues to do a fantastic job in championing these aims and we look forward to working together once again to encourage real change in the industry."
Zari'aat Masood, Professional Engagement Officer at Brake, said, "We're delighted that FORS is continuing to support Brake by sponsoring our annual Fleet Safety Conference. It is exciting to be working with an organisation which shares the values of Brake so closely. This year's conference provides an ideal opportunity to network and share best practice with industry professionals; we suggest booking early to secure your place at this unmissable event."
Brake is inviting fleet operators and suppliers to book their place at the conference, which will take place at the St John's Hotel, Solihull (UK), on Thursday 25 May 2017. FORS and Brake Professional members can book their place at the conference for just £90+VAT, or £140+VAT for non-members. Membership of Brake Professional costs from £50 + VAT per year, and new members will receive significant discounts to this and other events, as well as access to guidance and resources to help manage road risk.
Attendance at the Brake Fleet Safety Conference can be booked by emailing professional@brake.org.uk or by calling +44 (0)1484 559909.