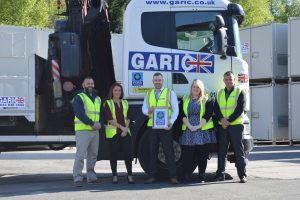 Garic Ltd has been announced as the 200th company to achieve FORS Gold accreditation since the scheme began.
Garic, headquartered in Bury, Greater Manchester, manufactures, hires and sells welfare and environmental equipment to the construction industry, running a fleet of nearly 50 vehicles. The company first came across FORS while working on Crossrail, and initially became a Bronze member to highlight its own safety and efficiency efforts.
The company has used FORS as a benchmark, setting a high standard for the team. It has also used FORS eLearning modules to train drivers, and used Toolbox Talks to communicate industry updates to the fleet.
Mark Booth, Garic's transport manager and a FORS Practitioner said: "Receiving FORS Gold is a fantastic achievement and reflects the level of professionalism and commitment of our in-house transport operations."