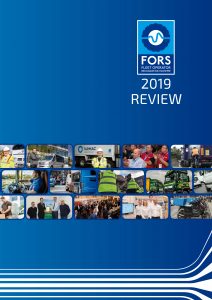 The FORS Annual Review 2019 is out now and available to access on the FORS website. The Annual Review looks back at some of the key events of 2019 while celebrating the many successes and achievements during the year.
Keeping up the theme of the 2019 FORS Members' Conference, the review shines a light on the importance of working towards a safer, smarter, greener future and the significance of maintaining those three aspects into your daily fleet operations.
The past year was a successful one for the scheme. Over 5,000 FORS Bronze audits were conducted, with an overall pass rate of 73 per cent, a two per cent increase when compared to 2018. Following the 2019 FORS satisfaction survey, 47 per cent of respondents reported a reduction in the cost of their annual fleet insurance greater than £1,000. Additionally, the review dives deep into the double award-winning Security and Counter Terrorism eLearning module.
The Annual Review also highlights the depth of the benefits now available to FORS members designed to support you through the progressive accreditation levels including:
A new accessible eLearning course focusing on pedestrian safety
Exclusive discounted fuel prices with FORS Fuel Expert fuel card offered through FORS Affinity Partner Fuel Card Services (FCS)
An increase in the number of funded places on many mandatory training courses for drivers and managers
A new mobile version of its popular Fleet Management System (FORS FMS) developed by software specialist and FORS Affinity Partner FleetCheck
Access to FORS Fleet Tools, free online information system to help members accurately collate and manage fleet related data
FORS is proud to confirm for the fifth year in a row there will be no increase to its membership subscription or audit fees during 2020.
Click here to access a copy of the FORS Annual Review 2019.