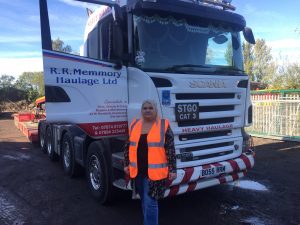 Emma Coulson-Smith, from Sheffield-based FORS Bronze member R.R. Memmory Haulage, is the 800th person to achieve FORS Practitioner status. Emma was brought on board to implement FORS, and as such has found the FORS Practitioner workshops invaluable.
"FORS represents best practice across all areas of fleet management – obviously we want to be as compliant as possible but by implementing FORS we've gone beyond that. We've applied a strict schedule to make sure we are following the FORS Standard, such as regular licence checks and eyesight checks for drivers," said Emma.
To achieve FORS Practitioners status, delegates need to complete a series of nine workshops. These are designed to provide a thorough grounding in best practice for commercial vehicle operators and topics in the workshops include developing road transport policy, safe and efficient fleet management, and monitoring and measuring road fleet performance.
For more information on FORS Practitioner courses, please click here. Dates for 2018 FORS Practitioner workshops will be announced later in the year.