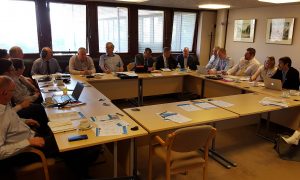 On 16 May 2019, the FORS Governance and Standards Advisory Group (GSAG) met at the Gateshead Civic Centre to discuss the latest developments of the scheme.
The meeting was an opportunity for the FORS Community Partnership (FCP) to update GSAG on the scheme developments, updated tools, guidance and industry engagement.
The FCP also had a chance to present ideas on mixed accreditation, which explores the opportunity for companies to hold a combination of Bronze, Silver and/or Gold accreditation at one site. The idea stemmed from members' feedback suggesting there should be more flexibility. GSAG agreed there is more work to do on the concept before it can be taken forward.
There are currently two GSAG sub-groups; the Professional Development sub-group which is  focused on evolving the training framework of FORS; and the Franchise sub-group looking at accreditation issues affecting franchise operators. The Professional Development sub-group will meet on 29 May to work on an approval process for 'immersive' training techniques that can help compliment current eLearning, classroom and on-cycle training. The Franchise sub-group met on 20 May to discuss the FORS Standard from a franchise perspective and the approach to auditing a franchise operator.
GSAG was established in 2015 to help with the development of the FORS Standard and to provide advice on how the scheme should evolve. The group helps protect the integrity and reputation of FORS and reinforce its position as the leading fleet best practice standard in the UK. Made up of fleet operators, local authorities and enforcement bodies, the group provides a balanced representation of members and stakeholders involved in the scheme.
To find out more about FORS Governance, get in touch with James Tillyer, CILT FORS Manager at james.tillyer@ciltuk.org.uk