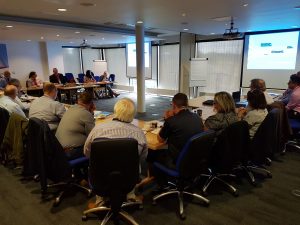 FORS would like to thank Tarmac Ltd for hosting the latest FORS Governance & Standards Advisory Group (GSAG) meeting, in July, at its Solihull offices. GSAG is the advisory board to the FORS Community Partnership (FCP) comprising a select group of fleet operators, specifiers and stakeholders from across the transport sector. Input from GSAG is key to the ongoing development of FORS.
This most recent meeting discussed further collaboration with industry stakeholders, scheme compliance and enforcement, the frequency of audits for Gold members and the passenger and light vehicles working groups.
Since its inception in 2015, the group has had a significant impact on the development of the scheme, most notably the 2016 review of the FORS Standard, auditing procedures and member benefits. The independent nature of the group assures FORS members that its procedures and requirements are industry-led, up-to-date and relevant.
'The FCP is very grateful to Tarmac for hosting the meeting and for its hospitality,' said James Tillyer, FORS Manager. 'The venue was the perfect backdrop to a successful meeting and we appreciate the support and time that our members give towards the development the scheme,' he said.