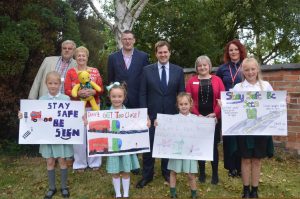 A transport manager at FORS Gold member Hutchinson Engineering Services, was so inspired by completing a FORS Safe Urban Driving training course, that he decided to take what he had learnt to children at a local primary school, creating a special road safety day and poster competition.
Ryan Easom, from Hutchinson Engineering Services Weston, in Nottinghamshire, created the Stay Safe Be Seen programme after attending a FORS Safe Urban Driving course.  He said, "I came away from the course and thought about what we could do as a haulage company."
Ryan set up the Road Safety day at Sutton-on-Trent Primary and Nursery School, taking a Hutchinson's lorry into the playground to explain visibility and road safety awareness to the children. The event included truck blind spot activities and a competition to design a special road safety poster, to be printed onto Hutchinson cabs.
Ryan Easom commented, "Every child got to sit in the cab, we showed them the blind spots by playing games, asking them to note whether they could see the teacher or not, and spent time talking about the importance of wearing bike helmets when cycling. Nottinghamshire Fire Service showed children the equipment they use at a road traffic collision, which had a very striking effect on the older children."

Sutton-on-Trent Primary Head teacher Fiona Price said the event was a huge success, "The Hutchinson's team did a fantastic job – the children have clearly taken on board the key safety messages even though they had been delivered in such a fun way!"
FORS are thrilled to see the safety messages discussed in our free-to-attend FORS training courses being taken on board and shared in this practical and inclusive way. We encourage other members to think about how they could apply the messages from FORS training courses in their local community.