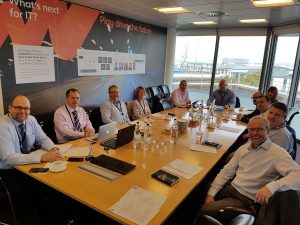 The second meeting of the FORS Light Commercial Vehicle (LCV) Working Group took place on Thursday 2 November. The group was formed earlier this year to support the more than 37,000 LCVs that make up part of the scheme, to ensure LCV operators' needs are fully covered by FORS and that future benefits and requirements are shaped by their input.
The latest meeting brought together FORS operators, stakeholders and associates, who covered a wide range of topics, including van defect checks, fleet manager training, the perception of professional driving and tyre management.
Terry Egan from the Department of Transport (DfT) and Scott Gibbons from the National Counter-Terrorism Unit were also present to deliver an update on the measures being taken to address the issue of vehicles used as weapons.
FORS Manager James Tillyer said, "The meeting today was really constructive, and the numerous requests to participate in this forum since it started in July this year demonstrates the level of interest from FORS members and the wider fleet industry. I'm looking forward to working on some of the ideas put forward, and I have complete confidence that the scheme will develop even greater appeal for van operators looking to introduce fleet best practice."
If you are an LCV operator and would like to put forward a suggestion or topic for discussion, please contact James Tillyer: James.Tillyer@ciltuk.org.uk