Manchester Airports Group (MAG) is one of a growing number of bus and coach operators who are attaining accreditation with FORS, the Fleet Operator Recognition Scheme. The company's Compliance Manager, Leigh Brennand, explains more about what the scheme can do for bus and coach operators.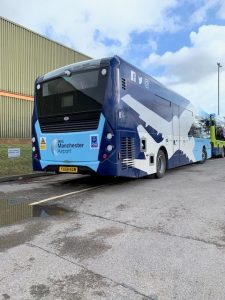 Why did you join FORS? 
We decided to join FORS as it directly aligns with our key operational principles, and so we were eager to demonstrate our commitment to efficiency and safety. FORS membership has served as an excellent way to challenge ourselves and ensure we are truly meeting the high standards that we set ourselves. We have found FORS membership an ideal way to set ourselves apart from other operators and show we are striving to lead the industry in safety, staff training and efficiency standards.
What are three key benefits you have found from your FORS membership so far?  
FORS driver training courses have been of great benefit in helping us advance the professional development of our drivers. Improving our driver's proficiency and confidence and ensuring they feel sufficiently supported, is vital to their performance and their mental well-being. Now we are confident our drivers drive in the safest and most efficient manner, helping us to reduce the likelihood of an incident and reducing our environmental impact.
Becoming FORS accredited has also helped strengthen our brand image as the accreditation is increasingly recognised as evidence of a bus operator having achieved industry best practice.
The frequency of our journeys and the sheer number of people that we transport on a daily basis mean safety is paramount for us.  Through our FORS membership we have gained the tools to reach even higher standards of safety and reduce the unique risks that come from operating within an airport.
Why would you recommend FORS to other bus and coach operators?
FORS requirements have prompted us to re-evaluate our operations, identify areas of weakness and improve them, allowing us to become an even stronger business. We would definitely recommend FORS to other bus and coach operators as the best way to ensure they are reaching industry best practice and providing a truly safe, efficient and high-quality service to passengers.