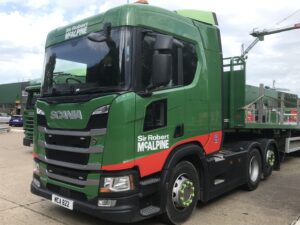 In recognition of the importance of a safe and efficient road transport supply chain, FORS Gold accredited Sir Robert McAlpine (SRM) began stipulating FORS Silver accreditation as a requirement for all vehicles entering its sites back in 2012.
The family owned building and civil engineering business, which celebrated its 150th anniversary in 2019, has long led the charge for greater safety and efficiency in UK construction projects.
Paul Smith, Logistics Manager at SRM said, "Writing FORS into our contracts as a requirement for all vehicles was a step change in how we assure standards across our road transport supply chain. Historically price was the key driver for selecting contractors, with less emphasis on how the materials were getting to site. Now our practices are designed to ensure safety and environmental impact are the key drivers.

"It is our duty to ensure our sites are as safe and efficient as possible, for those who live and work in the immediate area and for our clients and the road transport supply chain has a big role to play in that."
SRM has a robust system of compliance checks in place and stipulates that companies must enter their FORS ID number to book on site. If not, the system does not let them get any further in their booking, reducing the incidences of turning vehicles away from site. Traffic Marshalls are also used at the gate to complete vehicle checks and verify FORS documentation.
FORS offers a free online toolkit for FORS Specifiers – click here for more information. FORS Specifiers are organisations that stipulate that fleet operations within their supply chain are FORS accredited, ensuring that the safest, most efficient fleets are used.