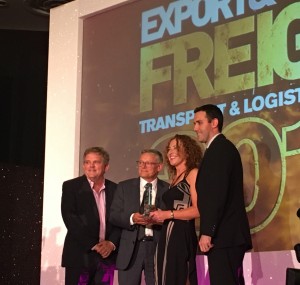 Congratulations to two FORS members who were winners at the annual Transport and Logistics awards organised by Export & Freight magazine.
Sawyers Transport Ltd, a FORS registered company was named European Haulier of the Year while Darren Wylde from Mercedes-Benz UK Ltd (FORS Associate) was named Technician of the Year.
Also congratulations to Irish Ferries Freight who won the FORS sponsored Innovation Excellence award presented by Peter Morrow, FORS Manager – Northern Ireland for its new online booking system, Freightengine. The system is a unique, innovative and simple to navigate portal, which since its launch just several months ago has helped the company grow its online business by 30%.
With 16 separate categories, the annual Transport and Logistics awards are now widely regarded as the premier event in the Irish transport and logistics calendar, attracting entries, support and sponsorship from many of the leading players in the industry.