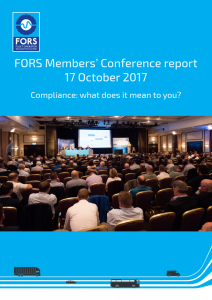 The FORS Members' Conference report has been released, outlining the highlights from the day and providing a recap of the latest FORS developments. The second annual conference, held on Tuesday 17 October at the National Conference Centre, Solihull, was attended by almost 400 delegates, and was described by many as 'even bigger and better' than last year's event.
As one delegate put it, the conference was "very useful and a good chance to meet up with others who are committed to embed best practice into their day-to-day services." The conference not only provided delegates with the opportunity to listen to industry experts talk on this year's theme 'Compliance: what does it mean to you?', but also provided an excellent platform for attendees to network with like-minded professionals.
To read a copy of the full conference report, including transcripts of all presentations, as well as all the latest FORS developments, please click here.