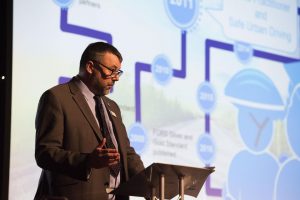 The FORS Members' Conference returns this autumn for its fourth year, focusing on how FORS helps commercial vehicle operators become safer, smarter and greener.
The event will feature series of panel discussions and presentations from major industry stakeholders to explore these themes, including Highways England, Kier, Michelin and Rexel, reflecting the FORS commitment to help members reduce emissions, improve safety and reduce operating costs.
450 delegates are expected to attend the conference on Tuesday 15 October 2019 at the National Conference Centre in Solihull, which is free for FORS members, who can claim 3.5 Driver CPD hours for attending.
At the helm will be Jo Godsmark, chair of the CILT (Chartered Institute of Logistics and Transport) Outsourcing and Procurement Forum director of BigChange and a trustee of Transaid, which FORS is also supporting at the event.
FORS Director, John Hix said, "FORS has now been active for over 10 years and our success in driving up industry standards is reflected in the impressive number of leading industry figures who will be at this year's conference."

"FORS is committed to raising standards  to help our industry become safer, smarter and greener and we look forward to exploring this with members at this year's event."
Alongside the conference is an exhibition featuring FORS Associates and Affinity Partners, each showcasing products or services designed to help members meet the requirements of the FORS Standard and assist in driving-up industry best practice. As ever, delegates
FORS Members' Conference 2019 key discussion topics:
FORS update –recent scheme developments – Paul Wilkes, FORS
Home, safe and well – John Kerner, Highways England
Drivers' mental health – Steve Croft and Natalie Geraghty, Kier
FORS compliance and enforcement– Graham Holder, FORS
Technology and compliance – Ruth Waring, BigChange
Tyre management – how to deflate your running cost – Edwin Farquhar, Michelin
Smart tachographs – the future today – Adrian Barrett, Road Tech
Driving safety when the supply chain never stops – Marc Holloway, Rexel
FORS future – the next steps – John Hix, FORS

Tachograph analysis software specialists Aquarius IT  will headline sponsor the event.  As a FORS Associate,  the company developed its ClockWatcher software solution to help the road transport industry analyse and manage driver and vehicle data.
"The team are pleased to launch our new Document Management system at this  conference, which has been developed on the back of conversations with FORS operators, trainers and auditors." commented Mark Johnston, Director. "We are pleased that over the last couple of years our relationship with numerous FORS members has developed to the point where we can build solutions around them to the benefit of the scheme".
To read more on the FORS Members' Conference, please click here